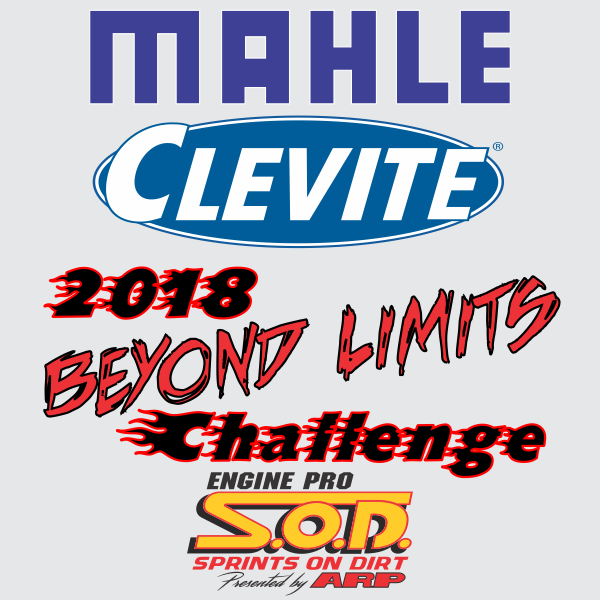 ERIE, MI (February 3, 2018) – Engine Pro Sprints on Dirt presented by ARP is pleased to announce that the popular MAHLE/Clevite Beyond Limits Challenge is once again on the SOD schedule for 2018.
The challenge, known as the Short Track Challenge before 2016, was the first SOD mini-series and has been a fan favorite since its inception. It offers drivers the opportunity to compete in a mini-championship within the full Sprints on Dirt series for an additional, separate point fund.
The 2018 MAHLE/Clevite Beyond Limits Challenge will consist of five races; the dates and tracks for each race of this exciting mini-series will be announced later.
The BLC point fund will be paid out to the top five finishers at the 2018 Sprints On Dirt Awards Banquet. In addition, the MAHLE/Clevite Beyond Limits Challenge champion will be guaranteed a starting spot in the Mike Olrich Memorial Race at Crystal Motor Speedway on September 1st.
MAHLE Original is the "Global Star" within the MAHLE Aftermarket brand portfolio. The brand MAHLE stands for engine parts, filters, thermo management and mechatronics of uncompromising quality – in original equipment and aftermarket.
Clevite is an American brand with one of the oldest pedigrees and supplies pistons, assemblies, cylinder liners, bearings and valves for American commercial vehicles as well as construction and agricultural equipment applications.
Competitors may debate who is the best on the track, but under the hood, there is no debate that Clevite and MAHLE are the one constant of winning teams throughout American grass roots racing.
For more information about MAHLE/Clevite, click here. For more information about Engine Pro, go to www.enginepro.com. For more information about ARP, go to www.arp-bolts.com. The latest 2018 Sprints on Dirt schedule, rules, and current news are available at www.sprintsondirt.com.
Engine Pro Sprints On Dirt presented by ARP is brought to you in 2018 by:
iiiiiiiiiiiiiEngine Pro (Title Sponsor)
iiiiiiiiiiiiiARP (Title Sponsor)
iiiiiiiiiiiiiHoosier Racing Tire (Official SOD Tire)
iiiiiiiiiiiiiMAHLE/Clevite (Beyond Limits Challenge Sponsor)
iiiiiiiiiiiiiKing Engine Bearings (King of Michigan Sponsor)
iiiiiiiiiiiiiLane Automotive/MSD Ignition (Fast Masters Sponsor)
iiiiiiiiiiiiiEngler Machine & Tool (Heat Race Sponsor)
iiiiiiiiiiiiiRockAuto.com (Heat Race Sponsor)
iiiiiiiiiiiiiThe Perfit Corporation (Lucky Dog Sponsor)
iiiiiiiiiiiiiKSE Racing Products (Hard Charger Sponsor)
iiiiiiiiiiiiiXYZ Machining (Season Sportsman & Crew Chief Sponsor)
SOD contingency sponsor partners include: Allstar Performance, ATL Racing Fuel Cells, BR Motorsports, Diversified Machine Inc. (DMI), Hepfner Racing Products (HRP), J & J Auto Racing, Keizer Aluminum Wheels, King Racing Products, Maxim Racing, Motor City Racing Promotions, Racing Optics, Rod End Supply, Schoenfeld Headers, Simpson Racing Products, Walker Performance Filtration