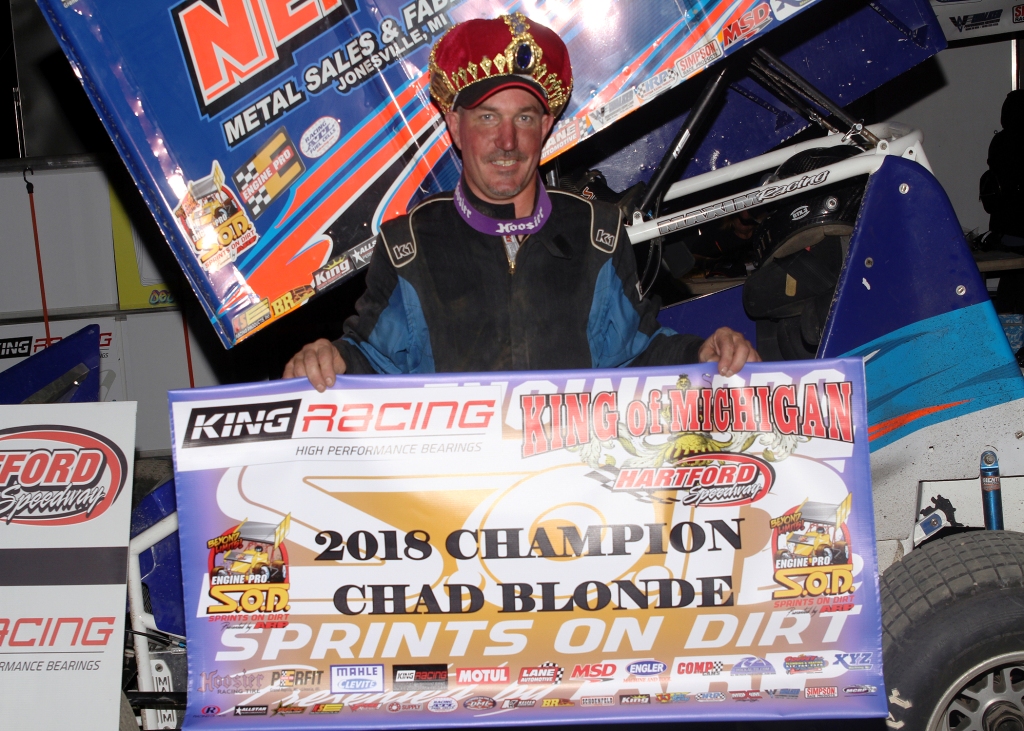 King Chad II (photo by Jim DenHamer)
ERIE, MICHIGAN (September 3, 2018) – Labor Day weekend traditionally brings the curtain down on the Engine Pro Sprints On Dirt presented by ARP points season and this year is no exception.  There is one twist for 2018 though, the points finale, the Mike Olrich Memorial and MAHLE/Clevite Beyond Limits Challenge Championship fell victim to heavy rains and flooding at Crystal Motor Speedway Saturday.  The Dual On Dirt Take II at I-96 Speedway on September 21 and the COMP Cams End-of-the-Year Shootout at Berlin Raceway on September 29 are non-points races.
This week, we look at each mini-points championship and the 2018 Sprint On Dirt Championship.  Today we start with the King Engine Bearings King of Michigan at Hartford Motor Speedway.
Chad Blonde picked up his second King Engine Bearings King of Michigan title, having won last year's KoM also.  Blonde finished second to Ryan Ruhl in the first KoM race on July 8 after the series was rained out on May 18 and June 8.  From there on, though, it was all Blonde in his Krieger Racing Engines powered Maxim as he showed his mastery of the Hartford oval with wins on July 13, July 27, and Friday's championship race.  The August 10 race was the third KoM rain out of 2018.
Blonde will collect $1,000 at the Engine Pro Sprints On Dirt Awards Banquet on October 27 at the Battle Creek Holiday Inn, Battle Creek, Michigan for his KoM championship.  The top five in KoM points will be awarded a portion of the mini-series point fund.
2018 King Engine Bearings King of Michigan final point standings:
‍‍‍‍‍‍ ‍‍‍‍‍‍ ‍‍‍‍‍‍ 1. 5B, Chad Blonde, 592
‍‍‍‍‍‍ ‍‍‍‍‍‍ ‍‍‍‍‍‍ 2. 7, Shawn Valenti, 492
‍‍‍‍‍‍ ‍‍‍‍‍‍ ‍‍‍‍‍‍ 3. 10S, Jay Steinebach, 456
‍‍‍‍‍‍ ‍‍‍‍‍‍ ‍‍‍‍‍‍ 4. 3, Dustin Shriver, 450
‍‍‍‍‍‍ ‍‍‍‍‍‍ ‍‍‍‍‍‍ 5. 0, Ricky Ferkel, 420
Hartford Speedway at www.hartfordspeedway.net.  To learn more about Engine Pro, go to www.enginepro.com.  For more information about ARP, go to www.arp-bolts.com.  Follow SOD at www.sprintsondirt.com and on Facebook at www.facebook.com/sprintsondirt.