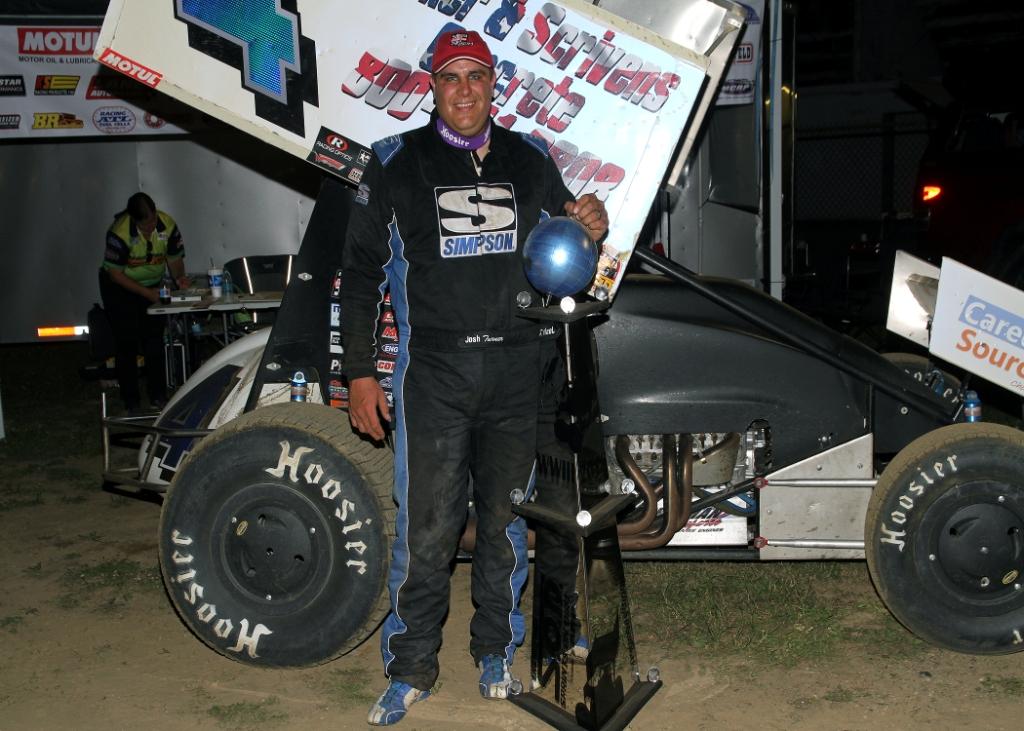 Josh Turner with his 2018 WWIII winner trophy.  Photo by Jim DenHamer
ERIE, MI (June 17, 2018) – Josh Turner (Osseo, MI) drove to a spectacular Engine Pro Sprints On Dirt presented by ARP win at Butler Speedway's WWIII, the second Hog Creek Showdown race Saturday night.
Top Shelf Turner utilized his Gressman Powersports engine and J&J Auto Racing chassis and the track's top ridge, often slipping over it, blasting by Chad Blonde to the delight of the huge crowd for the win.  Former multi-time Butler champion car owner Tom Dale, turned the wrenches to fine tune Turner's machine.
Turner started on the pole for the feature with Shawn Valenti.  Valenti took the early lead as Turner was down to third by the end of the first lap and eventually fell to fifth place.  On lap seven, Chad Blonde blasted by Valenti who dropped to fourth by lap 13.
While there was plenty of action up front, all eyes were on Ryan Ruhl.  Ruhl, forced to start twentieth due to a heat race issue, made an impressive charge to fifth by lap twelve before a cut right front tire ended his race early.  It was deja vu with a flat tire taking Ruhl out of contention at the Butler SOD race on May 19.
Meanwhile, back up front, Turner was searching for a way to correct his backslide.  In fifth place on lap nine, Turner moved to fourth on lap ten, third on lap 13, and second on lap 16.  On lap twenty-two, Turner charged past Chad Blonde and withheld cautions and Blonde's attempts to retake the lead, driving off to a three-car length win.
Qualifying – Lane Automotive/MSD Ignition Fast Masters (fast qualifiers) $50 each
| | | | |
| --- | --- | --- | --- |
| Group | Time | # | Driver |
| Engler Machine & Tool Heat | 14.253 | 7 | Shawn Valenti |
| COMP Cams Heat | 14.272 | 27B | Boston Mead |
| RockAuto.com Heat | 15.008 | 71H | Ryan Ruhl |
Heat Races
Engler Machine & Tool Heat #1
 
#
Driver
Contingency
1
7
Shawn Valenti
2
10s
Jay Steinebach
3
11
Trey Smith
Benic Enterprises
4
7J
Joe Swanson
Racing Optics
5
0
Ricky Ferkel
6
29
Daryl Shaffer
7
8
Justin Ward
8
66
Kyle Stepke
COMP Cams Heat #2
 
#
Driver
Contingency
1
41
Thomas Schinderle
2
4T
Josh Turner
3
39
Tylar Rankin
Benic Enterprises
4
77
Andrew Scheid
Racing Optics
5
1a
Mark Aldrich
6
52
Zac Broughman
7
6
Tyler Bearden
8
27B
Boston Mead
RockAuto.com Heat #3
 
#
Driver
Contingency
1
27K
Jason Blonde
2
5b
Chad Blonde
3
24+
Mike Schumaker
Benic Enterprises
4
96M
Josh Mohr
5
24
Eric Smith
6
8W
Josh Ward
7
71H
Ryan Ruhl
Feature
| | | | | |
| --- | --- | --- | --- | --- |
|   | # | Driver | Awards | Contingencies |
| 1 | 4T | Josh Turner | | Rod End Supply |
| 2 | 5b | Chad Blonde | Jim Coffey & Son | Rod End Supply |
| 3 | 7 | Shawn Valenti | | Rod End Supply |
| 4 | 7J | Joe Swanson | | Schoenfeld Headers |
| 5 | 10s | Jay Steinebach | | ATL Racing Fuel Cells |
| 6 | 0 | Ricky Ferkel | | |
| 7 | 27K | Jason Blonde | | |
| 8 | 77 | Andrew Scheid | | |
| 9 | 1a | Mark Aldrich | | King Racing Products |
| 10 | 24+ | Mike Schumaker | | |
| 11 | 96M | Josh Mohr | | Keizer Aluminum Wheels |
| 12 | 11 | Trey Smith | | |
| 13 | 29 | Daryl Shaffer | | |
| 14 | 52 | Zac Broughman | | |
| 15 | 66 | Kyle Stepke | | |
| 16 | 39 | Tylar Rankin | | |
| 17 | 8 | Justin Ward | | |
| 18 | 71H | Ryan Ruhl | | |
| 19 | 41 | Thomas Schinderle | | |
| 20 | 6 | Tyler Bearden | | |
| 21 | 8W | Josh Ward | | |
| 22 | 24 | Eric Smith | | |
| DNS | 27B | Boston Mead | | |
KSE Racing Products Hard Charger – Ricky Ferkel (+7)
BR Motorsports Contingency (feature top 10 draw) – Chad Blonde
DMI (Diversified Machine) Contingency (feature 12-16 draw) – Kyle Stepke
Perfit Corporation Lucky Dog – Josh Ward
Allstar Performance Better Luck Next Time – Tyler Bearden