ERIE, MI (June 11, 2018) – A fan-favorite special event at Butler Motor Speedway, the WWIII race, will be run this Saturday in partnership with Engine Pro Sprints On Dirt presented by ARP.  The race will also be the second Hog Creek Showdown.
This year's WWIII winner will be awarded a unique trophy custom designed and built by Tylar Rankin.  The polished stainless steel and black wood 4'-7" tall trophy is topped off by a large globe and accented by small glass globes and black graphics.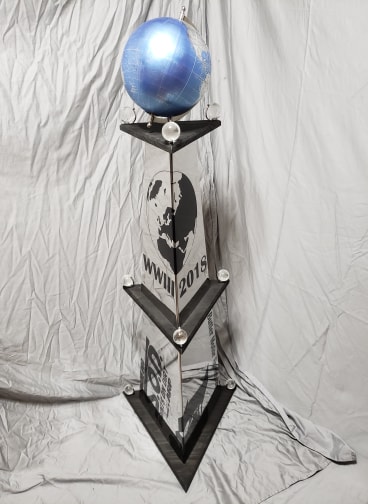 Going into the second of the four Hog Creek Showdown races, Chase Ridenour (Perry, Michigan) leads Boston Mead (Onsted, Michigan), Chad Blonde, Shawn Valenti, and Dan McCarron (Britton, Michigan).  The 2018 Hog Creek Showdown will conclude with the two-day Butler Bash on Friday, August 3, and Saturday, August 4.
In SOD season championship points, Litchfield, Michigan's Chad Blonde holds the early lead over Plymouth, Indiana's Zane DeVault.  Shawn Valenti (Fostoria, Ohio), Gregg Dalman (Bellevue, Michigan), and Ryan Ruhl (Coldwater, Michigan) complete the top five.
Butler Motor Speedway and Sprints On Dirt continue to work together to ensure a strong future for sprint car racing in Michigan.  In a move that is sure to benefit fans and competitors alike, Butler reduced the track banking by about one-third and widened the racing surface over the offseason.
For more information about Butler Motor Speedway, go to www.butlerspeedway.net and the speedway's Facebook page at https://goo.gl/csxUkX.  To learn more about Engine Pro, go to www.enginepro.com.  For more information about ARP, go to www.arp-bolts.com.  Follow SOD at www.sprintsondirt.com and on Facebook at www.facebook.com/sprintsondirt.