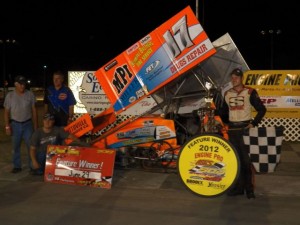 From Mike Strevel
Mt. Pleasant, MI — (June 29, 2012) — On a hot, humid evening in Mt Pleasant Michigan, Cloverdale Ohio driver Jared Horstman took the victory in the only appearance this season at the fast 3/8 mile oval. Renegade Racing Fuels and Miles Petroleum Group presented the action at the northern Michigan oval and the great crowd was not disappointed, a total of 28 cars checked into the pits.
Horstman started in fourth position for the twenty five lap main event. A total of two yellow flags slowed the action, however the feature winner was able to capture his second Engine Pro ASCS Sprints on Dirt Presented by ARP of the season in dominating fashion by taking the lead on lap two and holding the lead the rest of the 25 lap feature distance.
The feature winning driver stated: "I have to thank my Dad and my hard working crew; we are really on to something right now and hope that it continues". The top five finishers following Horstman were Dustin Daggett, Ryan Grubaugh third, Gregg Dalman fourth and Greg Wheeler fifth.
Heat victors were Horstman, Daggett, Shawn Dancer and Grubaugh. The B main went to Brett Mann and Gregg Dalman took the Brodix Heads Dash.
Engine Pro ASCS Sprints on Dirt Presented by ARP Results-
Friday June 29th, 2012
Mt Pleasant Speedway- Mt Pleasant Michigan
Car Count (28)
Heat Races (Top 16 in passing points transfer to the "A" Feature)
Engler Machine and Tool Heat Race #1 (8 laps): 1.17 Jared Horstman 2. 7 Darren Long 3. 14 Gary Fast 4. 27b Brad Lamberson 5. 10 Steve Irwin 6. 29s Marques Huffer 7. 70 Jim Lingar
Allstar Performance/Comp Cams Heat Race #2 (8 Laps): 1. 2m Dustin Daggett 2. 46 Robert Huisken 3. 11 Trey Smith 4. 8 Tim Champlain 5. 10s Jay Steinbach 6. 22t Tank Brakenberry 7. 16 Ryan Ruhl
Butlerbuilt Seats Heat Race #3 (8 Laps): 1. 49 Shawn Dancer 2. 4t Josh Turner 3. 49t Gregg Dalman 4. 11w Chris Ackland 5. 3w Brett Mann 6. 31 Andy Teunessen 7. 4 Eric Smith
Hoosier Tire Heat Race #4 (8 Laps): 1. 00 Ryan Grubaugh 2. 20a Andy Chehowski 3. 16c Greg Wheeler 4. 81 John Gall 5. 2g Joe Geibe 6. 2t Ralph Brakenberry 7. 21t Troy Chehowski-DNS
B-Main (Top four finishers transfer to the A-Main)
Engine Pro B-Main (10 Laps): 1. 3w Brett Mann 2.11w Chris Ackland 3. 31 Andy Teunessen 4. 10s Jay Steinbach 5. 22t Tank Brakenberry 6. 29s Marques Huffer 7. 4 Eric Smith 8. 70 Jim Lingar 9. 2g Joe Geibe DNS- 16 Ruhl, 21T Chehowski, 2t R. Brakenberry
Brodix Heads Fast Car Dash (4 Laps): 1.49t Gregg Dalman 2. 14 Gary Fast
3. 27b Brad Lamberson 4. 4t Josh Turner
Engine Pro ASCS Sprints on Dirt Presented by ARP "A" Feature
"A" Feature (25 Laps): 1.17 Jared Horstman 2. 2m Dustin Daggett 3. 00 Ryan Grubaugh 4. 49t Gregg Dalman 5. 16c Greg Wheeler 6.20a Andy Chehowski 7. 3w Brett Mann 8.46 Robert Huisken 9. 11w Chris Ackman 10. 14 Gary Fast11. 7 Darren Long 12. 10 Steve Irwin 13. 27b Brad Lamberson 14. 11 Trey Smith 15. 4t Josh Turner 16. 31 Andy Teunessen 17. 10s Jay Steinbach 18. 81 John Gall 19. 49 Shawn Dancer 20. 8 Tim Champlain