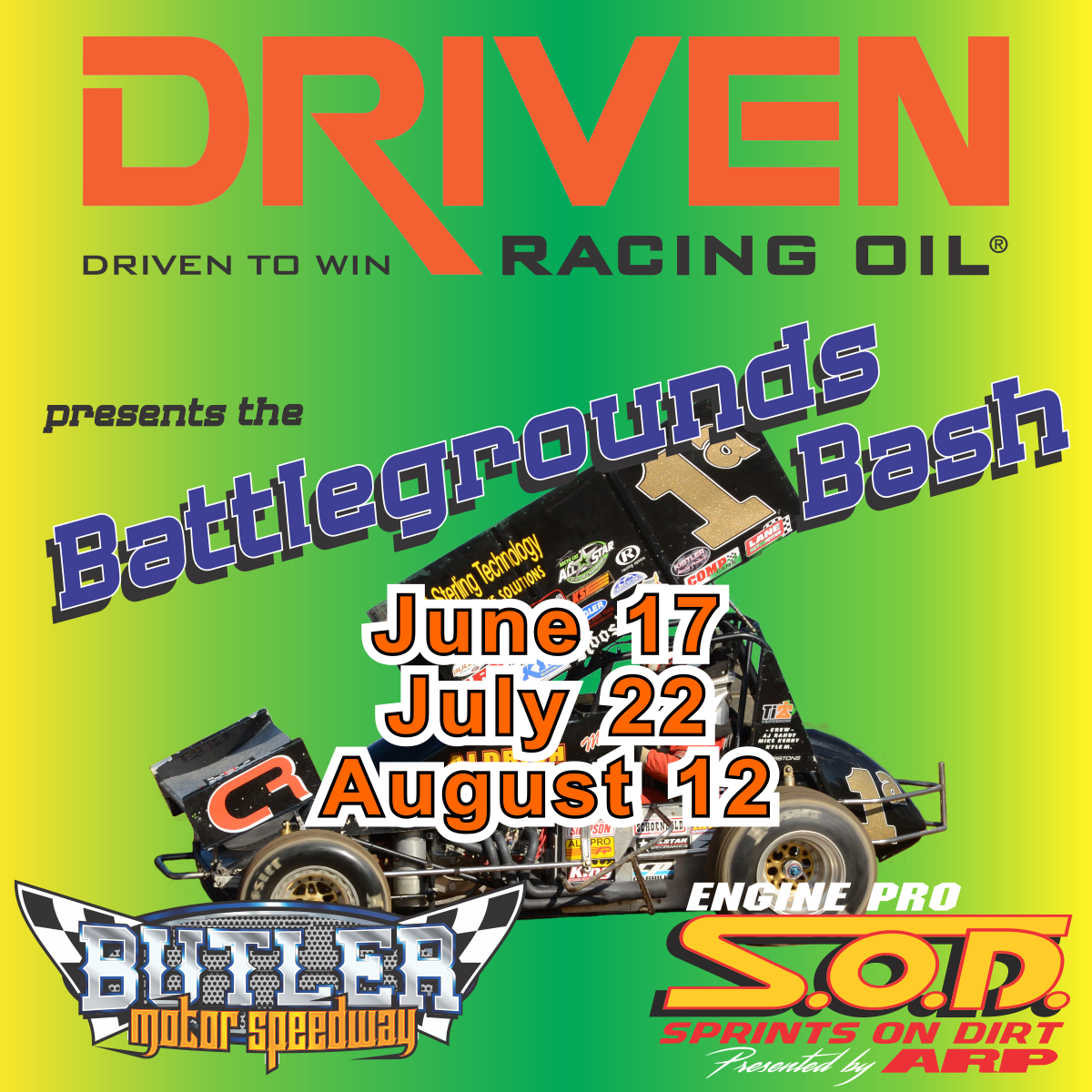 This Saturday, July 22nd, Engine Pro Sprints On Dirt presented by ARP racers head to Butler Motor Speedway for the second race of the Driven Racing Oil Battlegrounds Bash.
Litchfield's Chad Blonde drove from 6th to win the first BB race, the Driven Racing Oil Battlegrounds Bash WW III presented by Jim Coffey & Son Plumbing & Heating, feature on June 17th over Ryan Ruhl and Thomas Schinderle.
Blonde has two Butler wins in 2017, winning a weekly feature as well as the BB race.  Ruhl has two 2nd place finishes at Butler this season.  Last Friday, Blonde won the King Engine Bearings King of Michigan race at Hartford Speedway and Ruhl finished 2nd.
All three races of the Driven Racing Oil Battlegrounds Bash three-race series are being contested at Butler Motor Speedway, the birthplace of dirt track sprint car racing in Michigan and where many SOD competitors started their careers.   The BB will pay the points champion $1,000; the top five will each earn part of the point fund.  The third and final race will be on August 12th.
Driven Racing Oil Battlegrounds Bash points
Car #
Driver
Points
1
5B
Chad Blonde
150
2
71H/16
Ryan Ruhl
142
3
41
Thomas Schinderle
135
4
49T
Gregg Dalman
130
5
10S
Jay Steinebach
125
6
4
Josh Turner
122
7
0
Steve Irwin
119
8
1A
Mark Aldrich
116
9
10J
Chris Jones
113
10
27K
Ryan Kirkendall
110
11
20A
Andy Chehowski
108
12
5QB
Quentin blonde
106
13
71H
Ryan Grubaugh
104
14
46
Robert Huisken
102
15
7R
Nic Rogers
100
16
21T
Troy Chehowski
98
17
7J
Joe Swanson
96
18
27B
Boston Mead
94
19
17x
Dain Naida
92
20
19
Doug Zimmerman
90
21
47
Robert Bullock
89
22
18
DJ Lamance
88
23
77
Andrew Scheid
87
24
6
Tyler Beardon
80
Driven Racing Oil shares SOD's leadership spirit in the highly competitive field of racing lubricants.  No oil is tested in competition like Driven Racing Oil, and no oil that you can buy has proven itself in Victory Lane like Driven Racing Oil. That's a track record of a leader that you can believe in.
Get to know Driven Racing Oil at http://www.drivenracingoil.com.  For more information about Butler Motor Speedway, go to www.butlerspeedway.net.  To meet Engine Pro, go to www.enginepro.com.  For more information about ARP, go to www.arp-bolts.com.  Follow SOD at www.sprintsondirt.com and on Facebook at www.facebook.com/sprintsondirt.
Engine Pro Sprints On Dirt presented by ARP is brought to you in 2017 by many important sponsor partners including: Engine Pro (Title Sponsor), ARP (Title Sponsor), Hoosier Racing Tire (Official SOD Tire), MAHLE/Clevite (Beyond Limits Challenge Sponsor), Driven Racing Oil (Battlegrounds Bash Sponsor), King Engine Bearings (King of Michigan Sponsor), Lane Automotive/MSD Ignition (Fast Masters Sponsor), Engler Machine & Tool (Heat Race Sponsor), COMP Cams (Heat Race Sponsor), RockAuto.com (Heat Race Sponsor), The Perfit Corporation (Lucky Dog Sponsor), KSE Racing Products (Hard Charger Sponsor), XYZ Machining (Season Sportsman & Crew Chief Sponsor).  In addition, SOD contingency sponsors include: Allstar Performance, ATL Racing Fuel Cells, BR Motorsports, Diversified Machine Inc. (DMI), K2W Precision/Keizer Aluminum Wheels, King Racing Products, Kistler Racing Products, Maxim Racing, Motor City Racing Promotions, Racing Optics, Rod End Supply, Schoenfeld Headers, Simpson Racing Products, Walker Performance Filtration.