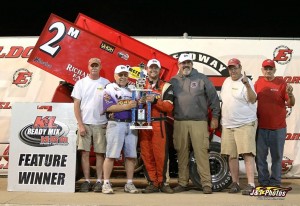 Photo by J&T Photos
By Bob Buffenbarger
Rossburg, Oh – (May 24, 2015) – Dustin Daggett wowed the fans with a totally dominating performance on the high banks of Eldora Speedway Sunday night during the SOD/NRA portion of the "Johnny Appleseed Classic". Daggett started 4th and immediately shot out front using the high side of the half mile oval.
While there was other racing taking place, Daggett was mainly using the high side of track putting distance between himself and Kyle Sauder early on. As he encountered lapped traffic, he managed to pick his way around cars.
Randy Hannagan passed Sauder for 2nd before the half way point of the twenty lap event and was being chased by Sauder, Dustin Stroup and Ron Blair. As the feature was nearing conclusion, Daggett continued to weave through traffic but still had to be patient at times.
Late in the race Daggett had lapped up to 8th place and amassed a nine second advantage over Hannagan. As the white flag appeared Daggett made his way through more heavy traffic and crossed the line ahead of Hannagan, Sauder, Stroup and Ron Blair.
In victory lane Daggett cited having a bit of a rough weekend but thanked everyone on his crew, He also said "when you know Randy (Hannagan) is back there, you can't let up.
Eldora Speedway – Rossburg, Oh
Sunday May 24, 2015
Heat Race #1 (8 Laps): 1. 20-Butch Schroeder, 2. 83- Kyle Sauder, 3. 35-Ron Blair, 4. 10x-Dustin Stroup, 5. 49t-Gregg Dalman, 6. 27B-Brad Lamberson, 7. 22R-Kevin Roberts Jr., 8. 67-Chris Durand
Heat Race #2 (8 Laps): 1. 22H-Randy Hannagan, 2. 6M-Max Stambaugh, 3. 28H-Hud Horton, 4. 23-Devon Dobie, 5. 27-Brad Lamberson, 6. 11N-Ed Neumeister, 7. 15-Brandon Fergeson, 8. 12R-Nick Roberts
Heat Race #3 (8 Laps): 1. 2M-Dustin Daggett, 2. 6S-J.R. Stewart, 3. 16-Ryan Ruhl, 4. 8J-Jess Stiger, 5. 11x-Tim Allison, 6. 7K-Kyle Pitts, 7. 1A-Mark Aldrich, 8. 24-Eric Smith
Heat Race #4 (8 Laps): 1. 00-Jim Neir, 2. 31-Andy Teunessen, 3. 17-Jared Horstman, 4. 21K-Kody Swanson, 5. 12J-Tyler Moore, 6. 49-Shawn Dancer, 7. 31N-Rod Henning
B Main (10 Laps): 1. 11N-Ed Neumeister, 2. 49-Shawn Dancer, 3. 49T-Gregg Dalman, 4. 11X-Tim Allison, 5. 7K-Kyle Pitts, 6. 27B-Brad Lamberson, 7. 21K-Kody Swanson, 8. 12J-Tyler Moore, 9. 31N-Rod Henning, 10. 12R-Nick Roberts, 11. 15-Brandon Fergeson, 12. 22R-Kevin Roberts Jr., 13. 1A-Mark Aldrich, 14. 67-Chris Durand, DNS.24-Eric Smith
Feature (20-Laps): 1. 2M-Dustin Daggett, 2. 22H-Randy Hannagan, 3. 83-Kyle Sauder, 4. 10X-Dustin Stroup, 5. 35-Ron Blair, 6. B20-Butch Schroeder, 7. 00-Jim Neir, 8. 17-Jared Horstman, 9. 6M-Max Stambaugh, 10. 16-Ryan Ruhl, 11. 21K-Kody Swanson, 12. 31-Andy Teunessen, 13. 6S-J.R. Stewart, 14. 23-Devon Dobie, 15. 8J-Jess Stiger, 16. 49T-Gregg Dalman, 17. 28H-Hud Horton, 18. 11N-Ed Neumeister, 19. 49-Shawn Dancer, 20. 20-11X