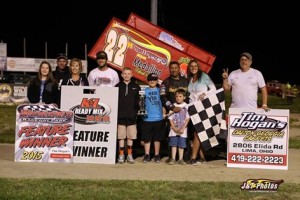 By Bob Buffenbarger
Photo by J&T Photos
Waynesfield, Oh – (May 23, 2015) – Randy Hannagan made a late race pass and held on to take the 25 lap "Memorial Classic" at Waynesfield Raceway Park contested by the K&L Ready Mix NRA Sprint Invaders and the Engine Pro Sprints on Dirt Presented by ARP on Saturday night.
Dustin Daggett started on the pole with Hannagan beside and at the drop of the green Daggett got the jump and took command with Hannagan falling back some but keeping Daggett in his sights.
Daggett maintained his advantage for several laps and then encountered lapped traffic with Hannagan closing some but Daggett held fast. Now the 33m of Caleb Griffith was making up ground and by lap 15 racing had intensified with Daggett leading Hannagan, Griffith and Max Stambaugh.
As lap 18 approached, Hannagan had caught Daggett and duo were side by side. Hannangan made the pass stick the next time around with Daggett still on Hannagan's bumper. Now Griffith had really joined the fray and was a close third as laps were winding down quickly.
As the white flag flew Daggett made a last ditch effort and pulled even with Hannagan but lost some momentum with Griffith and Stambaugh slipping past. At the stripe it was Hannagan, Griffith, Stambaugh, Daggett and Kyle Sauder.
Heats for the 28 cars on hand were won by Hannagan, Daggett and Rod Henning. The B main went to Gregg Dalman.
The three day weekend for the stars of SOD and NRA concludes at Eldora Speedway tomorrow night.
Waynesfield Raceway Park – 5/23/2015
Howard Johnson Inn of Lima Night
NRA/SOD 360 (28 Cars)
[#]-Starting Position
Heat 1 – Nitro Black Performance by Engine Pro (8 Laps – Top 5 finishers transfer to the A-feature)
1. 22H-Randy Hannagan[4], 2. 33M-Caleb Griffith[2], 3. 83-Kyle Sauder[9], 4. 23-Devin Dobie[5], 5. 11-Tim Allison[7], 6. 11N-Ed Neumiester[1], 7. 35R-Ron Blair[8], 8. 12R-Nick Roberts[3], 9. 24-Eric Smith[10], 10. 12J-Tyler Moore[6]
Heat 2 – Summit Racing Equipment (8 Laps – Top 5 finishers transfer to the A-feature)
1. 2M-Dustin Daggett[1], 2. 33M2-Tanner Thorson[6], 3. 17-Jared Horstman[5], 4. 8J-Jess Stiger[2], 5. 10X-Dustin Stroup[4], 6. 49T-Gregg Dalman[8], 7. 57-Mike Dunlap[3], 8. 5W-Jeff Williams[7], 9. 11R-Chase Ridenear[9]
Heat 3 – Ultra Shield Race Products (8 Laps – Top 5 finishers transfer to the A-feature)
1. 31N-Rod Henning[3], 2. 6M-Max Stambaugh[1], 3. 6S-JR Stewart[4], 4. 22R-Kevin Roberts[7], 5. 49-Shawn Dancer[2], 6. 27-Brad Lamberson[6], 7. 7K-Kyle Pitts[9], 8. 28H-Hud Horton[8], 9. 1A-Mark Aldrich[5]
B-Main – Computer Man Inc. (10 Laps – Top 5 finishers transfer to the A-feature)
1. 49T-Gregg Dalman[2], 2. 35R-Ron Blair[4], 3. 27-Brad Lamberson[3], 4. 7K-Kyle Pitts[6], 5. 11N-Ed Neumiester[1], 6. 57-Mike Dunlap[5], 7. 12R-Nick Roberts[7], 8. 28H-Hud Horton[9], 9. 12J-Tyler Moore[13], 10. 5W-Jeff Williams[8], 11. 1A-Mark Aldrich[12], 12. 24-Eric Smith[10]
A-Main – (25 Laps)
1. 22H-Randy Hannagan[2],2. 33M-Caleb Griffith[4],3. 6M-Max Stambaugh[6],4. 2M-Dustin Daggett[1],5. 83-Kyle Sauder[7],6. 17-Jared Horstman[8],7. 33M2-Tanner Thorson[5],8. 6S-JR Stewart[9],9. 10X-Dustin Stroup[14],10. 23-Devin Dobie[10],11. 31N-Rod Henning[3],12. 22R-Kevin Roberts[12],13. 8J-Jess Stiger[11],14. 35R-Ron Blair[17],15. 7K-Kyle Pitts[19],16. 11-Tim Allison[13],17. 49T-Gregg Dalman[16],18. 49-Shawn Dancer[15],19. 27-Brad Lamberson[18],20. 11N-Ed Neumiester[20]
Hard Charger: 10X-Dustin Stroup[+5]
©2014 – Results Provided by: Computer Man Inc. Fremont, OH