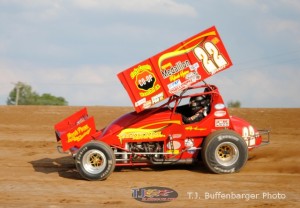 By T.J. Buffenbarger
Crystal, MI – (July 19, 2014) – For the third season in a row Randy Hannagan pulled into victory lane after winning the Engine Pro Mid-Season Championship feature for the Engine Pro Sprints on Dirt presented by ARP and the K&L Ready Mix National Racing Alliance.   Hannagan took the lead from Max Stambaugh on lap four and maintained his lead with Dustin Daggett and Tony Stewart in pursuit through heavy traffic for the victory.
"I moved all around the race track and found a line I was comfortable with.  I probably moved my line probably ten times in this race and I found a really good spot up top running into turn one, squaring off, and running off the bottom and it worked out really good," said Hannagan after the race.  "Anytime you have the guys from up here like Dustin Daggett, Dalman, then you have Tony Stewart, and all of the other cars from the other series that were here and there are a bunch of good racers here.  We were just the ones that figured it out early on to get the lead and were able to hold on."
Ryan Ruhl and Stambaugh started on the front row for the 35-lap feature.   Stambaugh took the lead as Hannagan moved into second spot.  On lap four Hannagan got around Stambaugh for the lead and started to check out from the rest of the field.
Further back in the field the two drivers making the biggest moves were Stewart and Daggett, who started eighth and tenth respectively. Stewart moved into sixth on lap three and then started to race with J.R. Stewart, and Ryan Ruhl for third, fourth, and fifth positions.
After a lap nine caution for Shawn Dancer slowing on the backstretch Hannagan pulled away during the restart.  Stewart's car came to life during the restart as he dove under Ruhl for fourth in turns one and two, one lap later drove around Brett Mann for third, and had taken second away from Max Stambaugh when J.R. Stewart slammed the front stretch wall and flipped in turn one.   J.R. emerged from his car under his own power.
The red flag period was immediately followed by a caution for Kyle Pitts spinning in turn four.  During the second attempt to restart following the red flag Stewart and Stambaugh traded second place back and forth while Hannagan pulled away.  With 12 laps in Daggett moved into fourth and started to gain ground on Stewart.  Daggett and Stewart raced hard for position, nearly making contact in turn two on one occasion, but kept going and did not lose ground to Stambaugh.
Stewart finally wrestled second away from Stambaugh and set out after Hannagan.  One lap later Daggett disposed of Stambaugh and began trying to catch the lead duo.
With 10 laps to go the race for the lead began to heat up.  Hannagan was heavy traffic and Stewart closed within four car lengths.  When Hannagan came upon a pack of four cars racing side by side for position Stewart and Daggett closed in.  Hannagan changed from the bottom line to the top to counter Stewart's challenge.  The move slowed Stewart's momentum enough to setup Daggett to drive around Stewart off turn four to take the second spot.   Daggett then went after Hannagan for the lead, but Hannagan was able to put several lapped cars between himself and Daggett that kept Daggett boxed in.  This was enough for Hannagan to maintain his advantage and take the victory over Daggett, Stewart, Stambaugh, and Dustin Stroup.
Heat race victories went to Jared Horstman, Ruhl, Tony Stewart, and Teunessen.  The B-Main victory went to Devin Dobie while Stroup won the dash.
During the B-Main Eric Smith flipped off of turn one.  Smith emerged from his car uninjured.
Engine Pro Sprints on Dirt presented by ARP
K&L Ready Mix National Racing Alliance
Mike Olrich Memorial / Engine Pro Mid-Season Championship
Crystal Motor Speedway – Crystal, MI
Saturday July 19, 2014
Hoosier Racing Tire Heat Race #1 (8 Laps): 1. Jared Horstman, 2. Max Stambaugh, 3. Dustin Daggett, 4. Dustin Stroup, 5. Andy Chehowski, 6. Troy Chehowski, 7. Craig Karazim, 8. Mark Strpko.
All Star Performance / Comp Cams Heat Race #2 (8 Laps): 1. Ryan Ruhl, 2. Randy Hannagan, 3. Brad Lamberson, 4. Shawn Dancer, 5. Mark Aldrich, 6. Gregg Dalman, 7. Tank Brakneberry.
Speed Pro Heat Race #3 (8 Laps): 1. Tony Stewart, 2. J.R. Stewart, 3. Jay Steinebach, 4. Kyle Pitts, 5. Chase Ridenour, 6. Eric Smith. DNS: Ralph Brakenberry.
ARP Heat Race #4 (8 Laps): 1. Andy Teunessen, 2. Brett Mann, 3. Joe Geibe, 4. Gavin Hunyady, 5. Jess Stiger, 6. Devon Dobie, 7. Chris Pobanz.
Engine Pro B-Main (10 Laps): 1. Devon Dobie, 2. Gregg Dalman, 3. Gavin Hunyady, 4. Craig Karazim, 5. Jess Stiger, 6. Andy Chehowski, 7. Mark Aldrich, 8. Chris Pobanz, 9. Troy Chehowski, 10. Tank Brakenberry, 11. Eric Smith. DNS: Mark Strpko, Ralph Brakenberry. (First four finshers transfered to the A-Main)
Nitro Black Dash (4 Laps): 1. Dustin Stroup, 2. Dustin Daggett, 3. Shawn Dancer, 4. Joe Geibe. (Determined starting spots 9-12 in the A-Main)
A-Main (25-Laps): 1. Randy Hannagan, 2. Dustin Daggett, 3. Tony Stewart, 4. Max Stambaugh, 5. Dustin Stroup, 6. Jared Horstman, 7. Brett Mann, 8. Ryan Ruhl, 9. Brad Lamberson, 10. Gregg Dalman, 11. Andy Teunessen, 12. Jay Steinebach, 13. Craig Karazim, 14. Chase Ridenour, 15. Devon Dobie, 16. Jess Stiger 17. Gavin Hunyady, 18. Kyle Pitts, 19. J.R. Stewart, 20. Shawn Dancer.