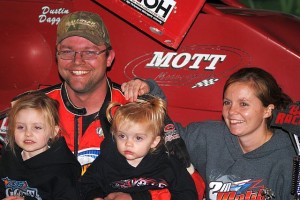 By T.J. Buffenbarger
Marne, MI – (September 24, 2013) – Dustin Daggett had one of the most memorable feature victories of his career Tuesday night winning the first Engine Pro Sprints on Dirt presented by ARP feature on dirt at the Berlin Raceway.  Daggett ran down early Shane Stewart and took the lead on lap 20 and held on after a late race restart, rim riding to victory.  The win was worth $5,000 to cap on Daggett's fourth SOD championship.
"This is pretty cool to win the first dirt sprint car race at Berlin," said Daggett pit side after his victory.  "I was so excited to be able to catch (Shane Stewart), it looked like he was having some trouble in lapped traffic and my car was a rocket on the top side, and we were able to get around (Stewart) and hold him off on that restart."
Shane Dancer and Greg Wilson started on the front row for the 30-lap feature.  Dancer jumped into the lead at the start with the first caution flag appear after lap one when Ken Mackey slowed in turn one with front end damage.
Dancer continued to lead after the restart, but all eyes initially were on Shane Stewart making moves through the field.  After Shane disposed of Beau Stewart for third  after the restart he passed Greg Wilson for second position on  lap four.   Stewart then ran down Dancer as he approached slower traffic, racing two and three wide through the slower cars before taking the lead on lap eight.
Behind Stewart Daggett had found the top side of the race track and was moving through the field.  Daggett passed Greg Wilson on lap nine and Dancer for second on lap 12.  At that point Stewart had built up a full straightaway lead. That advantage dwindled quickly as Daggett reeled in Stewart using the extreme top side of the speedway, finally taking the lead with a three wide more through traffic on lap 19.
Daggett continued to pull away until the caution appeared for Ryan Ruhl spinning in turn four after making contact with the wall with 26 laps completed.  This sent the slower traffic to the tail of the field and put Stewart and company right back on Daggett's back bumper.  Daggett was up for the challenge and motored away over the final four laps to victory.  Wilson's last ditch efford to claim second position was thwarted with Stewart held onto the runner up position. Wilson, Lucas Wolfe, and Dancer rounded out the top five.
Engine Pro Sprints on Dirt presented by ARP
Berlin Raceway – Marne, MI
Tuesday September 24, 2013
Hoosier Racing Tire Heat Race #1 (8 Laps):  1. Greg Wilson, 2. Gregg Dalman, 3. Ryan Ruhl, 4. Lucas Wolfe, 5. Chris Pobanz, 6. Brett Mann, 7. Joe Geibe, 8. Ralph Brakenberry, . 9. Eric Smith
All Star Performance / Comp Cams Heat Race #2 (8 Laps):  1. Jared Horstman, 2. Shawn Dancer, 3. Ken Mackey, 4. Andy Teuneasen, 5. Dusty Shriver, 6. Chase Ridenour, 7. Robert Huisken, 8. Jay Steinbach,  9.   Randy Hannagan
Speed Pro Heat Race #3 (8 Laps):  1. Shane Stewart, 2. Beau Stewart, 3. Dustin Daggett, 4. Bill Jacoby, 5. Max Stambaugh, 6. Parker Price-Miller, 7. Aaron Shaffer, 8. Mike Astrauskas, 9. Mark Strpko.
(Top 16 in passing points after the heat races were locked into the "A-Main")
Nitro Black Dash (4 Laps): 1. Max Stambaugh, 2. Ryan Ruhl, 3. Gregg Dalman, 4. Ken Mackey.  (Determined starting positions 9-12 in the "A-Main")
B-Feature (12 Laps):  1. Parker Price-Miller, 2. Randy Hannagan, 3. Aaron Shaffer, 4. Robert Huisken, 5. Jay Steinbach, 6. Chase Ridenour, 7. Mike Astrauskas, 8. Joe Geibe, 9. Mark Strpko, 10. Ralph Brakenberry, 11. Eric Smith.    (First eight finishers transferred to the "A-Main")
Engine Pro A-Main (30 Laps):  1. Dustin Daggett, 2. Shane Stewart, 3. Greg Wilson, 4. Lucas Wolfe, 5. Shawn Dancer, 6. Randy Hannagan, 7. Beau Stewart, 8. Jared Horstman, 9. Max Stambaugh, 10. Brett Mann, 11. Gregg Dalman, 12. Parker Price-Miller, 13. Andy Teunessen, 14. Dusty Shriver, 15. Bill Jacoby, 16. Aaron Shaffer, 17. Chase Ridenour, 18. Jay Steinbach, 19. Robert Huisken, 20. Joe Geibe, 21. Ryan Ruhl, 22. Chris Pobanz, 23. Mike Astrauskas, 24. Ken Mackey.