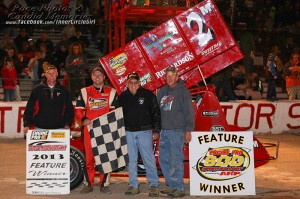 By Mike Strevel
In front of a very supportive and cold Michigan crowd; the Engine Pro Sprints on Dirt Presented by ARP feature was picked up by Dustin Daggett of Grand Ledge,MI who captured his sixth feature win of the 2013 season at Tri City Motor Speedway in Auburn,MI In addition to the $2,000 first place payout Daggett also clinched his fourth championship of his storied career.
A field of 20 winged sprint cars signed in to be a part of the season championship races supported by Ferrea Racing Components. Daggett used an outside front row starting position to his advantage leading all 25 laps of the feature. The now four time SOD champion held off mid-race challenges from Ryan Ruhl and a late race challenge by Gregg Dalman. Only two cautions slowed the feature one being on the second lap and the other on the final circuit of the feature. The champion driver Daggett credited his hard working Mott Motorsports crew for giving him a great handling car for the night to capture the victory and fourth championship of his sprint car career.
The top five finishers of the evening for the Engine Pro Sprints on Dirt Presented by ARP feature were Daggett, Ruhl, Dalman, Chris Jones and Troy Chehowski.
Heat race wins were captured by John Gall,Daggett, and Jay Steinbach, the Nitro Black Dash went to Dalman and the Engine Pro Lucky Dog winner was Eric Smith.
Engine Pro Sprints on Dirt Presented by ARP Results-
Saturday September 21, 2013
Tri City Motor Speedway–Auburn, MI
Car Count 20
Heat Races (Top 16 in passing points transfer to the "A" Feature)
Hoosier Racing Tire Heat Race #1 (8 laps): 1. 81 John Gall, 2. 31 Andy Teunessen, 3. 10j Chris Jones, 4. 14 Brad Lamberson, 5. 44j Bill Jacoby, 6. 4 Eric Smith, 7. 46 Robert Huisken.
Allstar Performance/Comp Cams Heat Race #2 (8 Laps): 1. 2m Dustin Daggett, 2. 16 Ryan Ruhl, 3. 49t Gregg Dalman, 4. 21t Troy Chehowski, 5. 19 Brett Mann, 6. 20a Andy Chehowski, 7. 89 Chris Pobanz
Speed Pro Heat Race #3 (8 Laps): 1. 10s Jay Steinbach, 2. 23g Joe Geibe, 3. 187 Gavin Hunyady, 4. 27k Ryan Kirkendall, 5. 2t Ralph Brakenberry 6. 22t Tank Brakenberry
Nitro Black Dash 1. 49t Gregg Dalman 2.21t Troy Chehowski 3. 187 Gavin Hunyady 4. 27k Ryan Kirkendall
Engine Pro Sprints on Dirt Presented by ARP "A" Feature
"A" Feature (25 Laps): 1. 2M Dustin Daggett, 2. 16 Ryan Ruhl, 3. 49t Gregg Dalman, 4. 10J Chris Jones, 5. 21T Troy Chehowski, 6.31 Andy Teunessen, 7. 10s Jay Steinbach, 8. 81 John Gall, 9. 187 Gavin Hunyady, 10. 19 Brett Mann, 11. 89 Chris Pobanz,12.44j Bill Jacoby 13. 20a Andy Chehowski,14. 23g Joe Geibe, 15.14 Brad Lamberson 16.27k Ryan Kirkendall 17. 22t Tank Brakenberry 18. 4 Eric Smith, 19. 2T Ralph Brakenberry, DNS 46 Robert Huisken
Engine Pro Lucky Dog-Eric Smith
Contingencies