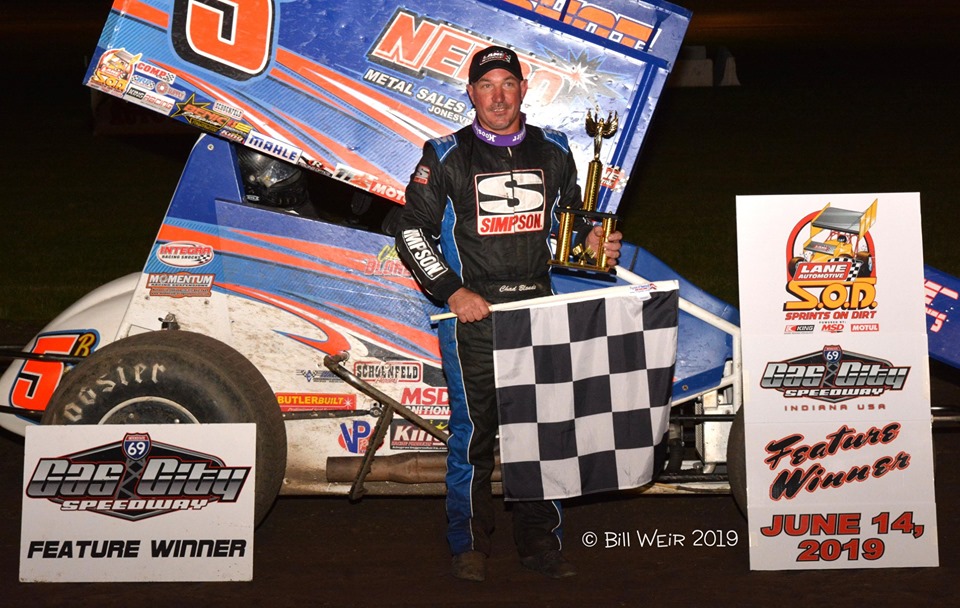 ERIE, MI (June 15, 2019) – Friday night, the Lane Automotive Sprints On Dirt powered by King Engine Bearings / MSD Ignition / Motul ventured south to Jerry Gappen's pristine Gas City I-69 Speedway for the 2nd annual Jack and Jiggs Classic. Chad Blonde drove to an impressive win in front of the large, enthusiastic crowd after some pretty intense racing.
After a slow start, qualifying 4th in his heat group, Blonde regrouped and won the Engler Machine & Tool Heat and the MSD Performance Dash, earning the pole for the feature.  With a mad scramble into turn one on the first lap of the feature, Blonde was shuffled back to 4th as Zane DeVault charged into the lead.  After a couple early cautions, Blonde moved into 2nd on lap 4.  As the leaders got into traffic, Blonde powered into the lead on lap 8 and DeVault got boxed in, letting Blonde drive away.  From there on, Blonde was in full command and survived cautions and reds to take the win. 
The big crowd was thrilled by intense racing for 2nd through 5th between DeVault in a car just put together last week, Kody Kinser, Tyler Gunn, and Boston Mead.  Dan McCarron, running in the top 4, was the victim of contact by another car and flipped, bringing out the first red flag.  Reds also were displayed for a Jay Steinebach flip and a near flip by Joshua Turner.
Kody Kinser and Boston Mead were Benic Enterprises Fast Masters (fast qualifiers).  Blonde won the Engler Machine & Tool Heat and the MSD Performance Dash.  Zane Devault took the King Engine Bearings Heat
SOD point leader Ryan Ruhl had an eventful night as a mechanical issue prevented him from qualifying.  Ruhl started 18th in the feature and charged ahead only to be the victim of a spin.  Undaunted and restarting at the rear, he quickly moved up, finishing 7th and being the MAHLE / KSE Hard Charger.
Qualifying – Benic Enterprises Fast Masters (fast qualifiers)
| | | | |
| --- | --- | --- | --- |
| Group | Time | # | Driver |
| Engler Machine & Tool Heat | 11.535 | 4K | Kody Kinser |
| King Engine Bearings Heat | 11.437 | 27B | Boston Mead |
Heat Races
Engler Machine & Tool Heat #1
 
#
Driver
Contingency
1
5b
Chad Blonde
 
2
68G
Tyler Gunn
Ti22 Performance
3
22M
Dan McCarron
Racing Optics
4
4K
Kody Kinser
 
5
88N
Frank Neill
 
6
0
Ricky Ferkel
 
7
70
Eli Lakin
 
8
24
Eric Smith
 
9
52
Zac Broughman
 
DNS
3
Dustin Shriver
 
King Engine Bearings Heat #2
 
#
Driver
Contingency
1
7
Zane DeVault
 
2
27B
Boston Mead
Ti22 Performance
3
4
Joshua Turner
Racing Optics
4
5QB
Quentin Blonde
 
5
41
Thomas Schinderle
 
6
10S
Jay Steinebach
 
7
1a
Mark Aldrich
 
8
24+
Michael Schumacher
 
9
71H
Ryan Ruhl
 
10
27K
Jason Blonde
 
MSD Performance Dash
 
#
Driver
Contingency
1
5b
Chad Blonde
 
2
7
Zane DeVault
Allstar Performance
3
27B
Boston Mead
Racing Optics
4
68G
Tyler Gunn
 
5
22M
Dan McCarron
 
6
4
Joshua Turner
 
A-Main
| | | | |
| --- | --- | --- | --- |
|   | # | Driver | Contingencies |
| 1 | 5b | Chad Blonde | Rod End Supply |
| 2 | 7 | Zane DeVault | Rod End Supply |
| 3 | 4K | Kody Kinser | Rod End Supply |
| 4 | 68G | Tyler Gunn | Schoenfeld Headers |
| 5 | 27B | Boston Mead | Saldana Racing Products |
| 6 | 5QB | Quentin Blonde | Pyrotect Racing Cells |
| 7 | 71H | Ryan Ruhl | King Racing Products |
| 8 | 88N | Frank Neill | Keizer Aluminum Wheels |
| 9 | 0 | Ricky Ferkel |   |
| 10 | 70 | Eli Lakin |   |
| 11 | 24 | Eric Smith |   |
| 12 | 24+ | Michael Schumacher |   |
| 13 | 41 | Thomas Schinderle |   |
| 14 | 52 | Zac Broughman |   |
| 15 | 27K | Jason Blonde |   |
| 16 | 4 | Joshua Turner |   |
| 17 | 10S | Jay Steinebach |   |
| 18 | 1a | Mark Aldrich |   |
| 19 | 22M | Dan McCarron |   |
| DNS | 3 | Dustin Shriver |   |
MAHLE Aftermarket Hard Charger – Ryan Ruhl (+11)
KSE Racing Products Hard Charger – Ryan Ruhl (+11)
BR Motorsports Contingency (feature top 10 draw) – Boston Mead
DMI (Diversified Machine) Contingency (feature 12-16 draw) – Zac Broughman
COMP Cams Lucky Dog – Eli Lakin
Allstar Performance Better Luck Next Time – Dan McCarron
For more information, check out these websites:
Gas City I-69 Speedway – www.gascityi69speedway.com
Lane Automotive – www.laneautomotive.com
King Engine Bearings – www.kingbearings.com
MSD Ignition – www.msdperformance.com
Motul – www.motul.com/us/en-US
Sprints On Dirt – www.sprintsondirt.com