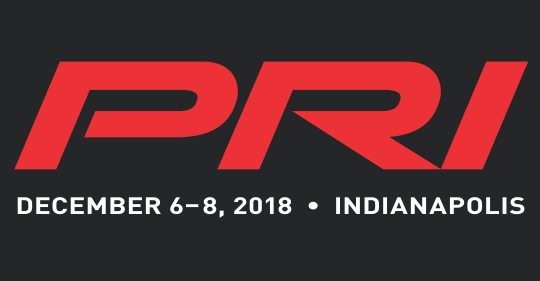 December 10, 2018 (ERIE, MI) – With PRI 2018 now a wrap, it was a great show, visiting many old friends and thanking our 2018 Engine Pro Sprints On Dirt presented by ARP marketing partners.
SOD title sponsors Engine Pro and ARP were visited, then it was on to our friends Hoosier Racing Tire, Hoosier Tire Midwest, COMP Performance Group, King Engine Bearings, MAHLE Motorsports, MSD Performance, Rod End Supply, ATL Racing Fuel Cells, Simpson Performance Products, King Racing Products, Allstar Performance, Motor State Distributing, Keizer Aluminum Wheels, Walker Performance Filtration, Shirt Works Racewear, DMI Racing Components, Ti22 Performance, Engler Machine & Tool, Maxim Racing, KSE Racing Products, Racing Optics, Schoenfeld Headers, Hepfner Racing Products, and Radical Race Gear.
Again, we thank all of our 2018 marketing partners and we will continue to work hard for our partners next year through a variety of continued programs and innovative new ideas, giving them the kind of vigorous marketing partnerships they have come to expect from SOD.
Safety was a major topic at PRI and the incorporation of additional cage support was first. Sprints On Dirt strongly recommends additional cage bracing in 2019 and it will be mandatory in 2020. For anyone interested in having the bars installed, contact SOD partner Benic Enterprises at 765-573-5199.
The 2019 SOD schedule is a work in progress and, as everyone knows, SOD announces ONLY confirmed dates. Current 2019 dates are:
4/27 – Crystal Motor Speedway
5/04 – Crystal Motor Speedway (4/27 rain date)
5/11 – Butler Speedway
5/17 – Hartford Speedway
6/15 – Butler Speedway
6/28 – Hartford Speedway
7/06 – Butler Speedway
7/13 – Crystal Motor Speedway
7/26 – Hartford Speedway
7/27 – Plymouth Speedway
8/03 – Butler Speedway
8/30 – Hartford Speedway
8/31 – Crystal Speedway
9/21 – Plymouth Speedway
As we continue to work on 2019, additional speedways and race dates will be announced as they are confirmed.
The 2019 SOD rule book will be posted on the SOD website later this week. There are very few changes for 2019, the most notable is that the single-cone start/restart procedure tried at the end of 2018 will be permanent.
To learn more about Engine Pro, go to www.enginepro.com. For more information about ARP, go to www.arp-bolts.com. Follow SOD at www.sprintsondirt.com and the Sprints On Dirt Facebook page at www.facebook.com/sprintsondirt/.