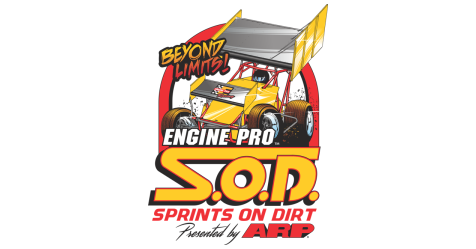 ERIE, MI (August 30, 2018) – The Engine Pro Sprints On Dirt presented by ARP 2018 championship points season closes out this weekend with two big races.  Tomorrow, Friday, August 31, the King Engine Bearings King of Michigan series concludes at Hartford Speedway.  Saturday, September 1, the MAHLE/Clevite Beyonds Limits Challenge concludes at Crystal Motor Speedway with the 5th Annual Mike Olrich Memorial.
Chad Blonde (Litchfield, MI), the 2017 KoM champion, leads the King Engine Bearings King of Michigan Championship, winning the last two KoM races.  Blonde leads Shawn Valenti (Fostoria, OH), Gregg Dalman (Bellevue, MI), Dustin Shriver (South Bend, IN), and Tyler Fitzpatrick (Goshen, IN) in KoM points.  The 2018 champion will be crowned Friday, and will receive $1,000; the top five will win a share of the point fund.  Ryan Ruhl (Coldwater, MI) won the first 2018 KoM race with Blonde finishing second.  KoM races were rained out on May 18, June 8, and August 10.
For more information about SOD's KoM series and 2018 Kids Feature Draw marketing partner King Engine Bearings, go to www.kingbearings.com.  Check out Hartford Speedway at www.hartfordspeedway.net for more information about the speedway.
The 5th annual Mike Olrich Memorial and 2018 MAHLE/Clevite Beyonds Limits Challenge Championship takes place Saturday, September 1 at Crystal Motor Speedway, capping off SOD's 39th consecutive season at the speedway.
Ryan Ruhl has been the man to beat in the Memorial, with wins in 2015, 2016, and 2017.  Randy Hannagan (Lima, OH) won the 2014 race.
The MAHLE/Clevite Beyonds Limits Challenge points battle is a close one.  Shawn Valenti leads Chad Blonde by just three points.  Thomas Schinderle (Berkley, MI), Ricky Ferkel (Mt. Pleasant), MI), and Jay Steinebach (Hudsonville, MI) round out the top five.
The Mike Olrich Memorial honors the memory of former Sprints On Dirt official and series director Mike Olrich.  Professionally, Mike was a greenhouse researcher at Michigan State University.  His work lives on through a complex computer-based tool that he co-authored that still provides assistance to flower growers in production scheduling.  Mike was a dedicated family man who always found time to be deeply involved coaching youth sports.  Michael Steven Olrich, passed away suddenly August 3, 2013, at the age of 43.  SOD continues to operate with the honesty and integrity Mike was known for, and honors him every year with the Mike Olrich Memorial Race.
The race will be the final points race of the Engine Pro Sprints On Dirt presented by ARP 2018 Season Championship.  Currently, Chad Blonde holds the points lead over Shawn Valenti, Jay Steinebach, Ricky Ferkel, and Justin Ward, (Benzonia, MI), 2016 SOD Sprint Car Rookie of the Year).  The SOD champion will have a guaranteed starting position in the SOD season finale, the COMP Cams End-of-the-Year Shootout at Berlin Raceway on September 29th.
Follow Crystal Motor Speedway at www.crystalmotorspeedway.com.  Meet MAHLE at www.us.mahle.com.To learn more about Engine Pro, go to www.enginepro.com.  For more information about ARP, go to www.arp-bolts.com.  Follow SOD at www.sprintsondirt.com and on Facebook at www.facebook.com/sprintsondirt.