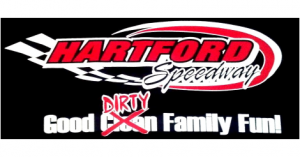 Hartford Speedway, Hartford, Michigan, and Engine Pro Sprints On Dirt presented by ARP have reached an agreement for four races in 2017.
Sprints On Dirt enjoys tremendous interest at Hartford Speedway. The Hartford Speedway Facebook page noted that: "…our fans love SOD and have proved to be our best crowd turnouts 3 seasons in a row."
Hartford Speedway and Sprints On Dirt are finalizing details regarding the four-race schedule; additional information will be released at a later date.
The historic Western Michigan speedway has underground a major reconfiguration. The track was turned from a 1/2 into a nonsymmetrical 3/8 that should prove to be challenging and fast. It will maintain its 100'-120' width. To get this accomplished, the former turns three and four of the 1/2 mile were moved toward turns one and two. The track is not at finish grade or race ready yet, but it will have some banking, although not as much as the old 3 and 4 turns. Track owner/promoter Tim Dibble said: "High banking and symmetrical track equals foot to the floor racing and that's not what we are going for in this change." Dibble's approach blends perfectly with SOD's beyond limits format to make driver skill a bigger factor.
To follow Hartford Speedway and the transformation of the track, go to the Hartford Speedway Facebook page and check out their website at www.hartfordspeedway.net for more information.
To learn more about Engine Pro, go to www.enginepro.com. For more information about ARP, go to www.arp-bolts.com. Follow SOD at www.sprintsondirt.com and the Sprints On Dirt Facebook page.