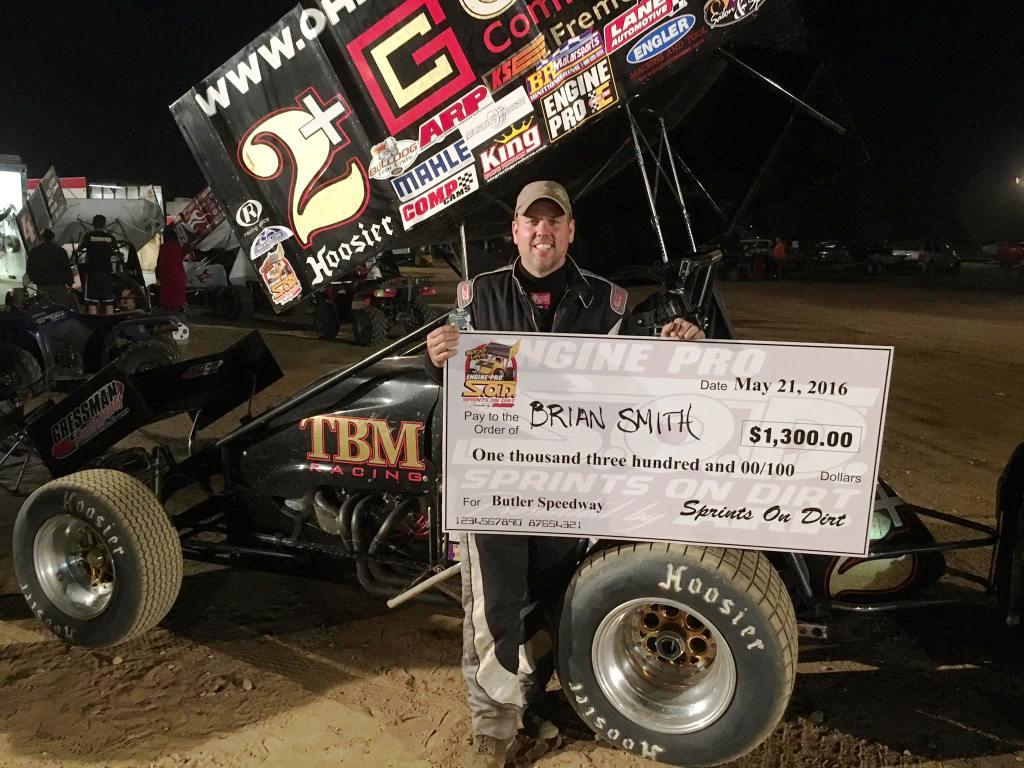 Erie, Michigan (May 22, 2016) – Doug Zimmerman led 99.5% of the race, but Fremont, Ohio's Brian Smith pulled off a dramatic finish line win in the Engine Pro Sprints on Dirt presented by ARP WWIII feature at Butler Speedway Saturday night.
The feature got off to a rocky start when Quentin Blonde spun in turn three on the first lap and Brad Lamberson had no place to go and collided with Blonde. Both cars had to be towed off the track and race officials called a fuel-only red flag due to the twenty-lap clean up delay. A second attempt to start the feature didn't fare much better, but cleanup was quick, and the restart had Doug Zimmerman charge into the lead from the pole position ahead of Bill Jacoby after original pole-starter Quentin Blonde was eliminated in the first lap crash.
Zimmerman, rejoining former car owner Tom Dale this season after taking 2015 off, quickly developed a huge lead and masterfully worked through heavy traffic. With everyone watching Zimmerman's impressive drive, no one noticed Fremont, Ohio's Brian Smith, top contender for 2016 SOD RockAuto.com Series Rookie of the Year quietly moving forward to second. A late race caution erased Zimmerman's huge lead, and Smith, now in second, started pressuring the leader, but in spite of pulling alongside Zimmerman once when Zimmerman bobbled coming out of turn 2 late in the race, Smith couldn't overtake the leader.
With five laps to go the last caution flew, and on the restart, it looked like Zimmerman's race long advantage coming off turn two would be enough to hold off Smith. About four car lengths behind Zimmerman going into turn three on the last lap, the large crowd was on its feet as Smith made a seemingly impossible charge high through the corner and out raced Zimmerman to the win by .068 of a second!
The excited crowd was ecstatic when Smith did a "dirt angel" (you know, like a snow angel) on the front straight.
The new Sprints On Dirt spec Hoosier Racing Tire rear tires have produced exciting racing in the first two races, Friday at Hartford and Saturday at Butler, and have received rave reviews from competitors. Not only did the tires perform flawlessly, but Butler winner Smith ran the same set of tires Friday on Hartford's big track and for his Butler win.
Butler Speedway, May 21 results:
Engler Machine & Tool Heat 1 (4 transfer to feature, top 2 redraw) – 1. 19Z Doug Zimmerman, 2. 4T Joshua Turner, 3. 4K Craig Karazim, 4. 3 Kyle Locke, 5. 47 Robert Bulloch, 6. 1 Eric Smith, 7. 6 Tyler Bearden
Lane Automotive Heat 2 (4 transfer to feature, top 2 redraw) – 1. 44J Bill Jacoby, 2. 12 Mike Baker, 3. 5 MaxStambaugh, 4. 81 John Gall, 5. 49T Gregg Dalman, 6. 19J Linden Jones, (DNS) 10J Jarrod DeLong
COMP Cams Heat 3 (4 transfer to feature, top 2 redraw) – 1. 19 Brett Mann, 2. 5QB Quentin Blonde, 3. 71H Brad Lamberson, 4. 27 Shelby Bilton, 5. 0 Stevie Irwin, 6. 4X Brady Locke, 7. 52 Zac Broughman
Engine Pro Heat 4 (4 transfer to feature, top 2 redraw) – 1. 25M Ken Mackey, 2. 2+ Brian Smith, 3. 20A Andy Chehowski, 4. 1A Mark Aldrich, 5. 46 Robert Huisken, 6. 8 Justin Ward
B Main (4 transfer to feature) – 1. 49T Gregg Dalman, 2. 47 Robert Bulloch, 3. 0 Stevie Irwin, 4. 19J Linden Jones, 5. 10J Jarrod DeLong, 6. 4X Brady Locke, 7. 46 Robert Huisken, 8. 8 Justin Ward, 9. 1 Eric Smith, 10. 52 Zac Broughman, 11. 6 Tyler Bearden
Feature – 1. 2+ Brian Smith, 2. 19Z Doug Zimmerman, 3. 3 Kyle Locke, 4. 4K Craig Karazim, 5. 25M Ken Mackey, 6. 27 Shelby Bilton, 7. 49T Gregg Dalman, 8. 20A Andy Chehowski, 9. 81 John Gall, 10. 0 Stevie Irwin, 11. 12 Mike Baker, 12. 47 Robert Bulloch, 13. 19 Brett Mann, 14. 44J Bill Jacoby, 15. 19J Linden Jones, 16. 1A Mark Aldrich, 17. 5QB Quentin Blonde, 18. 71H Brad Lamberson, 19. 5 MaxStambaugh, 20. 4T Joshua Turner
Engine Pro Lucky Dog Award – Gregg Dalman
KSE Race Products Hard Charger Award – Kyle Locke
Kistler Racing Products contingency awards: Josh Turner, Brett Mann
COMP Cams contingency award: Mike Baker
BR Motorsports contingency award: Craig Karazim
Keizer Aluminum Wheels contingency award: Mark Aldrich, Andy Chehowski
Allstar Performance contingency award: John Gall
Schoenfeld Headers contingency award: Quentin Blonde
Rod End Supply contingency awards: Brian Smith, Doug Zimmerman
Racing Optics contingency award: Craig Karazim
ATL Fuel Cells contingency award: Ken Mackey
King Racing Products contingency award: Andy Chehowski
Ti22 Performance contingency award: Brian Smith
DMI contingency award: Brett Mann