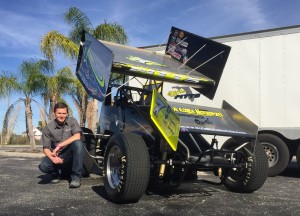 From Central Florida Motorsprots
Central Florida Motorsports is proud to announce that Kyle Pitts will be travelling back to Michigan for the 2015 Sprints on Dirt Season. Following a strong performance in the 2014 where Pitts achieved Rookie of the Year honors as well as a 3rd place in year end points.
In less than a week Pitts will be at Crystal Motor Speedway in Crystal Michigan, for the Season Opener. April 25 will be the start of the 20 race season that will travel throughout Michigan, Ohio, Indiana and end in Ontario Canada with the Canadian Sprint Car Nationals.
"I'm really excited to have the opportunity to go back to Michigan and build on what we have accomplished last year. We had some strong finishes but couldn't make it to victory lane. This year we are looking to change that."
CFM is proud to announce the addition of `Game On' Outdoor Gear, Wix Filters, JE Pistons, and Sheldon Farms to the team for the 2015 Sprints on Dirt Season.
To get more information about Kyle Pitts and Central Florida Motorsports follow on social media; Facebook.com/KylePittsRacing as well on Twitter @KPitts7, in addition to updates on the race weekend at www.KylePittsRacing.com