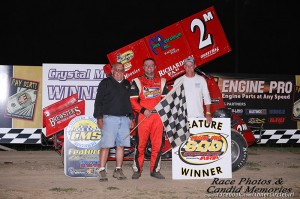 From T.J. Buffenbarger
Crystal, MI – (August 31, 2013) – Dustin Daggett held off an early challenge from Shawn Dancer and a late race restart to win Saturday night's Engine Pro Sprints on Dirt presented by ARP feature event at Crystal Motor Speedway.  The win was Daggett's fifth this season and second of the year at Crystal driving the Mott Motorsports Gaerte powered Maxim chassis.
"Dancer ran me nice and clean at the beginning and we were able to run a few laps," said Daggett pit side after his feature victory.  "Lapped traffic got pretty thick there a few times, so luckily it turned out the way it did.  The car was working good tonight for the first night on a new car."
Shawn Dancer and Daggett started on the front row and raced wheel to wheel for two laps until Dancer slipped off turn two and allowed Daggett to pull away.  Dancer kept Daggett in sight when the caution appeared on lap five for Ryan Grubaugh sliding off the race track.  Grubaugh was unable to continue.
Daggett pulled away with Dancer trying to stay in contact while Brett Mann continued his move through the field from eighth starting position.  Mann moved past Ryan Ruhl on lap seven and started to real in second place Dancer and third place Gregg Dalman.
Daggett encountered slower traffic by lap 10 and allowed Dancer and Dalman to close while Mann was picked by a slower car and allowed the lead trio to pull away.  Mann was able to close on Dalman later in the feature and slide past him and a slower car in turn three to take away third spot.  Then with 19 laps in Dancer made contact with Eric Smith, with Smith spinning out in turn two.
With the late race restart Daggett pulled away and opened up a sizeable lead that he would never relinquish.  Mann passed Dancer with five laps to go for second, but could not run down Daggett and claimed the runner up position.  Dancer held on for the final podium position while Dalman and Ruhl rounded out the top five.
Grubaugh, Dalman, and Mann won heat race events while Andy Teunessen won the dash.
The next Engine Pro Sprints on Dirt presented by ARP event is in two weeks when teams will head to Ohsweken Speedway to participate in the 9th Annual Canadian Sprint Car Nationals September 13th and 14th.
Engine Pro Sprints on Dirt presented by ARP
Saturday August 31, 2013
Crystal Motor Speedway – Crystal, MI
Hoosier Racing Tire Heat Race #1 (8 laps):  1. Ryan Grubaugh, 2. Chris Jones, 3. Kirk Cheney, 4. Don Smith, 5. Matt Lumbert, 6. Jim Lingar.
All Star Performance / Comp Cams Heat Race #2 (8 Laps):  1. Gregg Dalman, 2. Dustin Daggett, 3. Andy Teunessen, 4. Troy Chehowski, 5. Andy Chehowski, 6. Ralph Brakenberry.
Speed Pro Heat Race #3 (8 Laps):  1. Brett Mann, 2. Shawn Dancer, 3. Ryan Ruhl, 4. Joe Geibe, 5. Eric Smith, 6. Tank Brakenberry.
Nitro Black Dash (4 Laps) 1. Andy Teunessen, 2. Troy Chehowski, 3. Joe Geibe, 4. Don Smith. (Determined starting positions 9-12 in the A-Main)
Engine Pro / ARP A-Main (25-Laps):  1. Dustin Daggett, 2. Brett Mann, 3. Shawn Dancer, 4. Gregg Dalman, 5. Ryan Ruhl, 6. Troy Chehowski, 7. Chris Jones, 8. Andy Chehowski,  9. Andy Teunessen, 10. Joe Geibe, 11. Kirk Cheney, 12. Matt Lumbert, 13. Jim Lingar, 14. Eric Smith, 15. Don Smith, 16. Tank Brakenberry, 17. Ralph Brakenberry, 18. Ryan Grubaugh.
Engine Pro Lucky Dog Award:  Unclaimed.