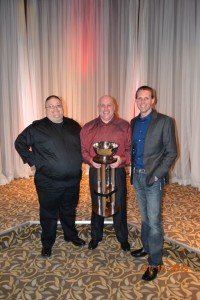 From Mike Strevel
Gun Lake, MI — (January 19, 2013) — The 2012 Engine Pro ASCS Sprints on Dirt Presented by ARP came to a conclusion Friday night with a crowd of nearly 100 celebrating the recently completed season.
The Fountains banquet center in Parchment MI was the location for the celebration of Gregg Dalman's first sprint car championship in 13 years of competition. The Bellevue MI racer thanked his hard working crew and car owner Jason Fausey for helping him reach this tremendous accomplishment.
Marketing Director Scott Overlund of Engine Pro Grand Rapids was on hand to congratulate the top 11 point drivers and track promoters Ron Flinn of Crystal Motor Speedway and Steve Pavalowski of Tri City Motor Speedway was among the special guests at the celebration of the 33rd year of the Michigan based sprint series.
The special awards that were announced at the banquet included the following-
2012 Engine Pro Rookie of the Year- Eric Smith
2012 MAHLE/Clevite  Short Track Challenge Champion-Gregg Dalman
2012 Engine Pro Sprints on Dirt Favorite Track-Tri City Motor Speedway
2012 Engine Pro Engine Builder of the Year-Gaerte Engines
2012 Crew Chief of the Year-Ken Grubaugh
2012 Engine Pro Car Owner of the Year-Tracy Rice
2012 Engine Pro Sprints on Dirt Driver of the Year-Gregg Dalman
2012 Engine Pro ASCS Sprints on Dirt Presented by ARP Top 11 Points
Gregg Dalman                                 2421
Ryan Grubaugh                              2391
Ryan Ruhl                                         2147
Andy Teunessen                             2105
Dustin Daggett                                2024
Greg Wheeler                                  2022
Brett Mann                                      1991
Joe Geibe                                          1858
Jared Horstman                              1803
 Robert Huisken                              1768
 Jim Lingar                                        1462