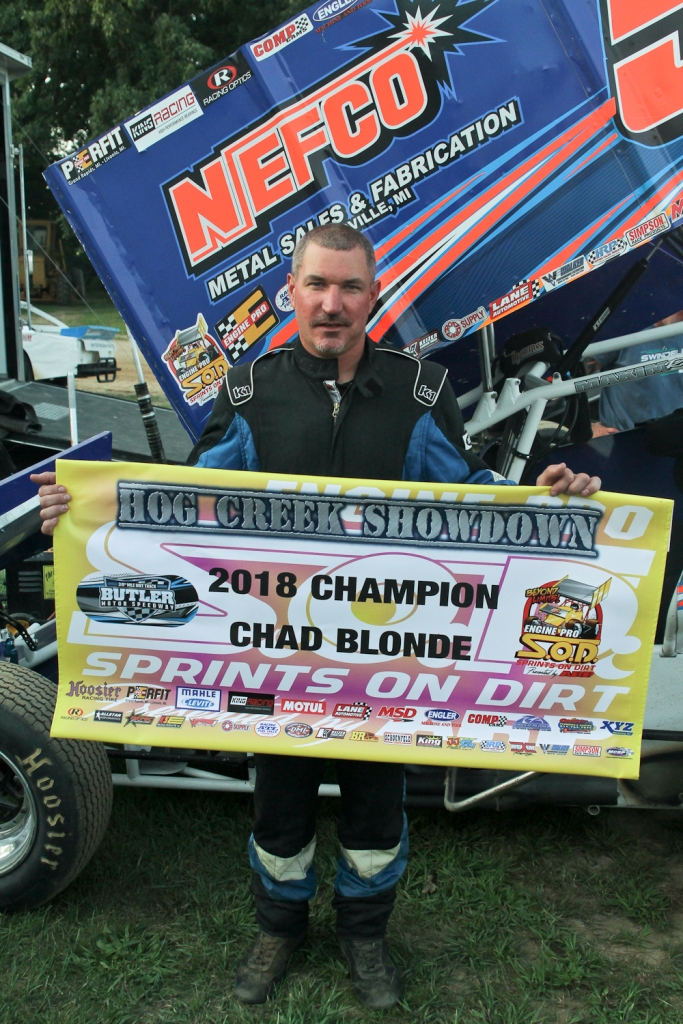 Jim DenHamer photo
ERIE, MI (September 4, 2018) – The four-race Butler Motor Speedway/Engine Pro Sprints On Dirt presented by ARP Hog Creek Showdown wrapped up with the Butler Bash on August 4th.  Chad Blonde, in his his Krieger Racing Engines powered Maxim, used four solid finishes, 3rd, 2nd, 1st, and 2nd, to take the championship.  Shawn Valenti took the HCS finale but it was too little, too late to catch Blonde.
2018 Hog Creek Showdown final points are:
‍‍‍‍‍‍ ‍‍‍‍‍‍ ‍‍‍‍‍‍ 1. 5B, Chad Blonde, 569
‍‍‍‍‍‍ ‍‍‍‍‍‍ ‍‍‍‍‍‍ 2. 7, Shawn Valenti, 545
‍‍‍‍‍‍ ‍‍‍‍‍‍ ‍‍‍‍‍‍ 3. 27B, Boston Mead, 482
‍‍‍‍‍‍ ‍‍‍‍‍‍ ‍‍‍‍‍‍ 4. 4, Josh Turner, 472
‍‍‍‍‍‍ ‍‍‍‍‍‍ ‍‍‍‍‍‍ 4. 10s, Jay Steinebach, 472
Blonde will collect $1,000 at the Engine Pro Sprints On Dirt Awards Banquet on October 27 at the Battle Creek Holiday Inn, Battle Creek, Michigan for his HCS championship.  The top five in HCS points will be awarded a portion of the mini-series point fund.
For full HCS point standings and all other Sprints On Dirt points, go to the SOD website and click on the "2018 Points" tab.
The 2018 Hog Creek Showdown dates and top three were:
‍‍‍‍‍‍ ‍‍‍‍‍‍ ‍‍‍‍‍‍ Saturday, May 19, Chase Ridenour, Boston Mead, Chad Blonde
‍‍‍‍‍‍ ‍‍‍‍‍‍ ‍‍‍‍‍‍ Saturday, June 16 – WWIII, Josh Turner, Chad Blonde, Shawn Valenti
‍‍‍‍‍‍ ‍‍‍‍‍‍ ‍‍‍‍‍‍ Friday, August 3 – Butler Bash 1, Chad Blonde, Ryan Ruhl, Boston Mead
‍‍‍‍‍‍ ‍‍‍‍‍‍ ‍‍‍‍‍‍ Saturday, August 4 – Butler Bash 2, Shawn Valenti, Chad Blonde, Quentin Blonde
For more information about Butler Motor Speedway, go to www.butlerspeedway.net and the speedway's Facebook page at https://goo.gl/csxUkX.  To learn more about Engine Pro, go to www.enginepro.com.  For more information about ARP, go to www.arp-bolts.com.  Follow SOD at www.sprintsondirt.com and on Facebook at www.facebook.com/sprintsondirt.