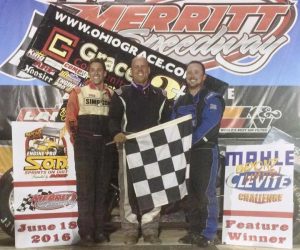 2nd place Thomas Schinderle, winner Brian Smith, 3rd place Dan McCarron
Erie, Michigan (June 19, 2016)- Joshua Turner jumped out to an early lead after starting on the front row with Steve Irwin for the first round of the MAHLE/Clevite Beyond Limits Challenge for the unlimited sprints of the Engine Pro Sprints On Dirt presented by ARP at Merritt Speedway Saturday night.  However, it only took fourth place starter Brian Smith from Fremont, Ohio, a couple laps to reel in Turner and charge into the lead.  Smith steadily built up a straightaway lead as he soon got into lapped traffic on the racy quarter mile.  In spite of being the last of seven features run on the track, the track was dust-free and with plenty of passing with the 2016 SOD spec tire that continue to impress everyone.
Smith, ran a very smooth, consistent race, masterfully handling lapped cars.  As the race approached midway though, Dan McCarron started turning faster times and closed the gap on Smith to several car lengths when the red flag flew with only five laps to go in the 25-lap main event.  Joshua Turner (4T) and Nic Rogers (81x) tangled in turn one, both flipped hard and collected Steve Irwin (0) in the melee.  Irwin made repairs and restarted, but Turner and Rogers were finished for the night.
With the green flying once again, Smith had a clear track while McCarron had to take evasive action to avoid a lapped car, and was passed by #41 Thomas Schinderle.  The caution flew one last time for a spin two laps later.  On the restart, once Schinderle disposed of a lapped car, he started closing the gap on Smith, but time ran out, and Smith scored his second SOD victory in a row.  The enthusiastic crowd was treated to Smith's victory dirt angel after his win.
The new Sprints On Dirt spec Hoosier Racing Tire rear tires produced exciting racing, engine equity, and stiff competition among racers regardless of engine size on the quarter mile Merritt track in spite of hot, sunny weather and a seven division program. Smith's 410 won, Schinderle was second in a 305, McCarron was third in a 305, and Mike Astrauskas finished fourth in a 360.
Feature Finish – 1) Brian Smith (4), 2) Thomas Schinderle (5), 3) Dan McCarron (3), 4) Mike Astrauskus (6), 5) Brett Mann (10), 6) Craig Karazim (12), 7) Ken Mackey (11), 8) Steve Irwin (2), 9) John Gall (8), 10) Robert Bulloch (15), 11) Jared Lamberson (14), 12) Bill Jacoby (13), 13) Mark Aldrich (19), 14) Eric Smith (16), 15) Tyler Bearden (18), 16) Brad Lamberson (9), 17) Jay Steinebach (20), 18) Joshua Turner (1), 19) Nic Rogers (7), 20) Justin Ward (17), 21) Tanner Astrauskas (21).
Smith won the Engler Machine & Tool heat race, Steve Irwin earned the Lane Automotive heat win, and Dan McCarron won the COMP Cams heat.
Contingency Awards:
Engine Pro Lucky Dog Award – Brad Lamberson
KSE Race Products Hard Charger Award – Mark Aldrich
Kistler Racing Products contingency awards: Josh Turner, Tom Schinderle
COMP Cams contingency award: Mike Astrauskas
BR Motorsports contingency award: Nic Rogers
Allstar Performance contingency award: John Gall
Schoenfeld Headers contingency award: Brad Lamberson
Rod End Supply contingency awards: Brian Smith, Tom Schinderle, Dan McCarron
Racing Optics contingency awards: Mike Astrauskas, Ken Mackey
ATL Fuel Cells contingency award: Brett Mann, Mike Astrauskas
King Racing Products contingency award: Craig Karazim, Brett Mann
Ti22 Performance contingency award: Thomas Schinderle
DMI contingency award: Eric Smith
For more information about MAHLE/Clevite, go to https://catalog.mahle-aftermarket.com/eu/home/index.xhtml?l=EN.  For more information about Engine Pro, go to www.enginepro.com.  For more information about ARP, go to www.arp-bolts.com.  The full 2016 Sprints on Dirt schedule, rules, current news, and other information are available at www.sprintsondirt.com.
Engine Pro Sprints On Dirt presented by ARP is brought to you by many important sponsor partners including: Engine Pro (Title Sponsor), ARP (Title Sponsor), Hoosier Racing Tire (Official SOD Tire), MAHLE/Clevite (Beyond Limits Challenge Sponsor), Engine Pro (Lucky Dog Sponsor), Lane Automotive (Primary Heat Race Sponsor), Engler Machine & Tool (Primary Heat Race Sponsor), COMP Cams (Primary Heat Race Sponsor), RockAuto.com (SOD Series Rookie of the Year Sponsor & SOD Sprint Car Rookie of the Year Sponsor), XYZ Machining (Sportsman of the Year Sponsor & Crew Chief of the Year Sponsor), KSE Racing Products (Hard Charger Sponsor).  In addition, SOD contingency sponsors include: ATL Racing Fuel Cells, Kistler Racing Products, Allstar Performance, Schoenfeld Headers, K2W Precision/Keizer Aluminum Wheels, Ti22 Performance, BR Motorsports, King Racing Products, License 2 Play, Simpson Racing Products, Rod End Supply, Diversified Machine Inc. (DMI), Racing Optics.