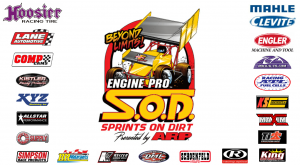 Erie, MI (May 18) – Engine Pro Sprints On Dirt presented by ARP is heading toward our season opener at Hartford Speedway Friday night with a full head of steam. We are confident that we will finally get our new unlimited format off the ground after two rain outs at Crystal Motor Speedway. Then on Saturday, we move on to Butler Motor Speedway.
We are excited to share with you the fact that in just over three days, more than 30,000 people have viewed SOD's Facebook event post for Hartford. If anyone ever had any doubt about the level of interest in SOD 2016, this answers the question.
Reaching 30,000 people did create a little problem for us. We wanted to be sure we shared our sponsor partnerships with everyone viewing our post, so we created an event photo for Hartford that includes all of our sponsor partners' logos. Since Facebook limits event photo size and we have so many, the images are not as big as we would like, but we did what we could.
Both races pay competitors $350 to start the feature.