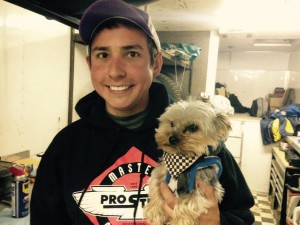 By T.J. Buffenbarger
Crystal, MI – (April 25, 2015) – Ryan Ruhl was able to take advantage of another competitors misfortune to win Saturday night's Engine Pro Sprints on Dirt presented by ARP feature Saturday night at Crystal Motor Speedway. Ruhl and Brad Lamberson raced for the lead throughout the second half of the 25-lap feature before Lamberson was able to pull away. While coming down for the white flag Lamberson's engine expired and Ruhl surged into the lead and went on to take the victory.
"I guess if you do this long enough you can only be so unlucky, I really feel for brad, he had a good race going. I feel terrible it had to end like that."
Shawn Dancer and Lamberson started on the front row and raced side by side for the lead on the opening lap with Lamberson taking the point. Lamberson held the top spot when Mike Burns brought out the caution flag with four laps in. Lamberson was able to pull away from Dancer during the restart while Dancer had to contend with Andy Teunessen challenging him for the second spot. Behind them Ruhl and Dustin Daggett were working their way up from starting 7th and fifth respectively racing for fourth position. Ruhl took the fourth spot from Daggett and then closed in on the lead trio.
Just as the leaders were getting into traffic and Lamberson appeared to be boxed in Burns brought out another caution flag when he slowed on the track. This allowed Lamberson an open track while Ruhl and Dancer races for second spot.
Lamberson pulled away again during the restart while Ruhl was able to slide in front of Dancer between turns one and two. Lamberson continued to pull away until a caution flag appeared Kyle Pitts spin in turn four. Geibe had to take evasive action and bounce off the wall to avoid contact with Pitts. Both drivers were able to restart.
This setup the lead battle over the final eight laps. Ruhl dove to the inside of Lamberson in turns one and two during the restart, but could not make the pass. Daggett started to make a late race surge moving into third with five laps to go as Ruhl closed in on Lamberson.
Even with Ruhl and Daggett quickly closing Lamberson appeared to have everything under control until coming off turn four for the white flag Lamberson's car lost power. Ruhl surged into the lead and held off Daggett on the final lap for the victory. Dancer, Chase Ridenour, and Teunessen rounded out the top five. Lamberson dropped back to 16th.
Ruhl, Ridenour, Daggett, and Pitts won heat race events while Nic Rogers won the B-Main event. The Engine Pro Sprints on Dirt presented by ARP series continues Friday night at I-96 Speedway in Lake Odessa, MI.
Engine Pro Sprints on Dirt presented by ARP
Crystal Motor Speedway – Crystal, MI
Saturday April 26, 2015
Heat Race #1 (8 Laps): 1. 16 – Ryan Ruhl, 2. 27 – Brad Lamberson, 3. 25M – Ken Mackey, 4. 27X – Jared Lamberson, 5. 2T – Ralph Brakenberry, 6. 24 – Eric Smith. (Top four finishers transferred to the A-Main)
Heat Race #2 (8 Laps): 1. 11R – Chase Ridenour, 2. 81 – John Gall, 3. 22M – Dan McCarron, 4. 19 – Brett Mann, 5. 50B – Mike Burns, 6. 70 – Jim Lingar. (Top four finishers transferred to the A-Main)
Heat Race #3 (8 Laps): 1. 2M – Dustin Daggett, 2. 31 – Andy Teunessen, 3. 1A – Mark Aldrich, 4. 4Z – Craig Karazim, 5. 7 – Nic Rogers, 6. 35 – Mark Strpko. (Top four finishers transferred to the A-Main)
Heat Race #4 (8 Laps): 1. 7K – Kyle Pitts, 2. 49 – Shawn Dancer, 3. 49T – Gregg Dalman, 4. 23 – Joe Geibe, 5. 77X – Alex Hill, 6. 21 – Kirk Cheney. (Top four finishers transferred to the A-Main)
B-Main (10 Laps): 1. 7 – Nic Rogers, 2. 77X – Alex Hill, 3. 50B – Mike Burns, 4. 21 – Kirk Cheney, 5. 24 – Eric Smith, 6. 70 – Jim Lingar, 7. 2T – Ralph Brakenberry. DNS: 35 – Mark Strpko. (Top five finishers transferred to the A-Main)
A-Main (25-Laps): 1. 16 – Ryan Ruhl, 2. 2M – Dustin Daggett, 3. 49 – Shawn Dancer, 4. 11R – Chase Ridenour, 5. 31 – Andy Teunessen, 6. 22M – Dan McCarron, 7. 19 – Brett Mann, 8. 49T – Gregg Dalman, 9. 25M – Ken Mackey, 10. 7K – Kyle Pitts, 11. 1A – Mark Aldrich, 12. 23 – Joe Geibe, 13. 77X – Alex Hill, 14. 81 – John Gall, 15. 21 – Kirk Cheney, 16. 27 – Brad Lamberson, 17. 50B – Mike Burns, 18. 7 – Nic Rogers, 19. 27X – Jared Lamberson, 20. 24 – Eric Smith