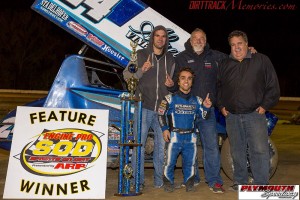 From Mike Strevel
Plymouth, IN — (October 4, 2014) — In front of a frigid and dedicated Plymouth Speedway crowd ; the Engine Pro Sprints on Dirt Presented by ARP feature was picked up by Rico Abreu of Rutherford, CA who captured his first ever feature win with the Michigan based sprint car sanctioning body.
A field of 20 winged sprint cars signed in at the tricky3/8 mile oval. Ryan Ruhl lead the first 11 laps of the feature event hoping to score his first ever SOD championship only to be involved with a couple of slower cars that caused extensive front end damage to the Coldwater, MI drivers car. A red flag was thrown for the cleanup and with this short window the Ruhl team was able to make repairs and return to the race track. Ruhl restarted in the rear and over the final 14 laps Ruhl was able to work his way to an eighth place finishing position.
Wisconsin racer Scotty Thiel inherited the lead from Ruhl and held the lead and looked to be the victor of his first ever SOD feature event. However Abreu who started 10th in the feature was making his move through the field and was running third at the half way point of the feature. Abreu took second place from Ohio driver Devon Dobie on lap 17 and started his charge on Thiel. Over the next four laps an incredible battle developed between Abreu and Thiel with the two drivers exchanging the lead three times before Thiel got tangled with a lapped car and came to a stop in turn three on lap 23. Abreu restarted with the lead and held off Shawn Dancer and Dustin Daggett for the win for the final race of the 2014 season.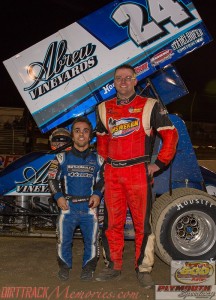 The battle for the 2014 points championship came down to the final laps with Daggett taking a third place finishing position and Ruhl digging his way back to eighth. This finish allowed Daggett to gain 19 points on Ruhl and end up with a seven point lead over Ruhl to capture his record breaking fifth series championship in the 35 year history of the group.
The top five finishers of the evening for the Engine Pro Sprints on Dirt Presented by ARP feature were- Abreu, Dancer, Daggett,Dobie and Chase Ridenour.
Heat race wins were captured by Thiel, Daggett and Dancer.
Engine Pro Sprints on Dirt Presented by ARP Results-Plymouth Speedway
Saturday October 4, 2014
Plymouth Speedway—Plymouth, IN
Car Count 20
Heat Races (Top 16 in passing points transfer to the "A" Feature)
Hoosier Racing Tire Heat Race #1 (8 laps):1. 64 Scotty Thiel 2. 10s Jay Steinbach, 3. 77 Zane Default, 4. 16 Ryan Ruhl 5. 49t Gregg Dalman, 6. 27 Brad Lamberson 7. Andy Chehowski
Lane Automotive/Comp Cams Heat Race #2 (8 Laps): 1.2m Dustin Daggett 2. 21t Troy Chehowski, 3. 11R Chase Ridenour 4. 27K Ryan Kirkendall 5. 94 Fred Wordedn IV 6. 23 Joe Giebe
Speed Pro Heat Race #3 (8 Laps): 1. 49 Shawn Dancer, 2. 23 Devon Dobie, 3. 24 Rico Abreu, 4. 19 Brett Mann, 5. 19z Doug Zimmerman, 6. 7K Kyle Pitts, 7. 70 Jim Lingar
Engine Pro Sprints on Dirt Presented by ARP "A" Feature
"A" Feature (25 Laps):1. 24 Rico Abreu, 2. 49 Shawn Dancer, 3. 2m Dustin Daggett, 4.23 Devon Dobie, 5. 11R Chase Ridenour, 6.49T Gregg Dalman, 7. 21T Troy Chehowski, 8. 16 Ryan Ruhl, 9. 19 Brett Mann,10. 7k Kyle Pitts, 11. 27 Brad Lamberson, 12.Zane Devault,13. 20a Andy Chehowski, 14.23g Joe Geibe, 15. 64 Scotty Thiel, 16. 70 Jim Lingar, 17. 19Z Doug Zimmerman, 18. 10s Jay Steinbach, 19. 27k Ryan Kirkendall 20. 94 Fred Worden IV
Engine Pro Lucky Dog-No Winner