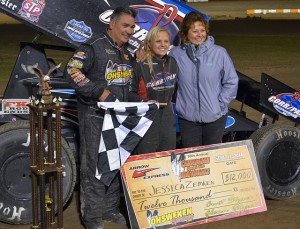 By T.J. Buffenbarger
Ohsweken, ON – (September 13, 2014) – Jessica Zemken's perseverance paid off on Saturday night in route to winning the 10th Annual Canadian Sprint Car Nationals Saturday night at Ohsweken Speedway. Zemken overcame a power steering failure in her heat race, charging from 14th starting spot to take the lead from defending Canadian Nationals winner Shane Stewart on lap 13 and held off Wayne Johnson after a late race restart for the victory. The win was Zemken's first Canadian Nationals feature victory of her career and second of the season.
"This feels really awesome," said Zemken in the pit area following the biggest victory of her career. "I have to thank John and Wendy Brush from Corr-Pak Merchandising. They believed me when a lot of other people did not. They have behind me now for six years, and I couldn't do this without them. Also my crew guys. They are guys with regular jobs and take time off to go racing with me."
Jared Horstman and Dustin Daggett started on the front row for the 35-Lap Canadian Sprint Car Nationals feature event. Daggett led at the start while Stewart passed Horstman for second. Stewart then ran down Daggett while Horstman battled for third on lap two until Engine Pro Sprints on Dirt presented by ARP point leader Ryan Ruhl came to a stop in turn four. Ruhl was unable to continue.
Daggett and Stewart then began a series of exchanging slide jobs over the next five laps racing for the lead. Then on lap seven Stewart and Daggett made contact in turn three that allowed Stewart to take the lead, but Daggett remained close enough to chase Stewart. This allowed Horstman and Zemken, who quickly worked her way up from mid-pack using the bottom of the race track, to join the race for the lea just as the caution flag flew for Randy Hannagan spinning in turn three. Hannagan rejoined the tail of the field.
During the restart Horstman could not hold onto the top side of the track in turn three and took a wild slide off the race track into the embankment off the racing surface to bring out the caution flag. Horstman was unable to continue.
The following restart saw Stewart, Daggett, and Zemken racing three wide for the lead off turn four. Zemken used low line of the race track to take second away from Daggett on lap 12 and then the lead from Stewart on lap 13. Two laps later the caution flag appeared again when Paige Polyak spun in turn three. After repairs in the work area Polyak rejoined the event.
Zemken continued to pull away while Stewart and Daggett raced for the second spot. Behind the race for second Bryan Howland and former Nationals winner Wayne Johnson raced for the fourth spot. On lap 18 the race for second shifted for Daggett when Johnson drove by him for third. Five laps later Johnson moved past Stewart for second and set out after Zemken for the lead.
As Johnson moved into second Zemken was mired in heavy traffic. Then with 11 laps to go the caution appeared for Dave Axton's spin. Zemken had three lapped cars between herself and Johnson for the restart and pulled away. Johnson quickly disposed of the slower cars while it took Stewart longer to clear the traffic.
Then with eight laps to go a scary moment occurred when Jordan Thomas flipped down the front straightaway. After a few moments to get his composure Thomas exited the car under his own power but was transported for observation to a local hospital.
After an open red for refueling during the lengthy red flag Zemken found the entire top five right on her back bumper with no lapped cars between them. Zemken got a great restart to pull away from the rest of the field while Johnson gave chase. Behind them Daggett and Howland overtook Stewart for third and fourth and continued to race for a top three position.
Johnson started to close in on Zemken during the final laps, but could not make up the distance as Zemken took the checkered flag over Johnson, Daggett, Howland, and top Canadian finisher Steve Poirier.
10th Annual Canadian Sprint Car Nationals
Ohsweken Speedway – Ohsweken, ON
Saturday September 13, 2014
Qualifying Group #1: 1. 67 – Steve Collins, 14.235; 2. 35 – Jared Zimbardi, 14.244; 3. 55 – Mark Smith, 14.335; 4. 3G – Shane Stewart, 14.452; 5. 17H – Hud Horton, 14.546; 6. 5d – Dave Dykstra, 14.668; 7. 48J – Darryl Ruggles, 14.972; 8. 21 – Don Adamczyk, 15.057; 9. 10JR – CJ Jones, 15.133; 10. 15 – Mike Ferrel, 15.391; 11. 5m – Brad Malloy, 15.705; 12. 19k – Paul Kinney, NT
Qualifying Group #2: 1. 16 – Ryan Ruhl, 14.191; 2. 1Z – Jessica Zemken, 14.258; 3. 33K – Kyle Patrick, 14.295; 4. 14H – Jim Huppunen, 14.506; 5. 79 – Jordan Thomas, 14.524; 6. 10J – Jeremy Hughes, 14.585; 7. 10K – Rob Dietrick, 14.799; 8. 5 – Keith Dempster, 14.856; 9. 3R – Shane Ross, 14.887; 10. 51 – Lee Ladoucer, 14.931; 11. 81 – Derek Jonathan, 15.352; 12. 27 – Brad Lamberson, NT;
Qualifying Group #3: 1. 22H – Randy Hannagan, 14.229; 2. 19p – Paige Polyak, 14.303; 3. 49 – Todd Hoddick, 14.350; 4. 51H – Bryan Howland, 14.391; 5. 87 – Jason Barney, 14.425; 6. 6m – Max Stambaugh, 14.442; 7. 25P – Michael Parent, 14.575; 8. 13 – Dylan Swiernik, 14.851; 9. 87R – Ryan Linder, 14.930; 10. 75 – Tommy Wickham, 14.995; 11. 1 – Kyle Fraser, 15.343.
Qualifying Group #4: 1. 123 – Yan Bilodeau, 14.417; 2. 422 – Etienne Girard, 14.541; 3. 11R – Chase Ridenour, 14.583; 4. 2 – Dave Axton, 14.733; 5. 36 – Mike Stelter, 14.837; 6. 45T – Joe Trenca, 14.936; 7. 5c – Conor Mahoney, 15.1728. 6 – Curtis Gartly, 15.199; 9. 22 – Jim Porter, 15.489; 10. 15a – April Wilson, 15.659; 11. 43 – Scott Sherk, 16.268
Qualifying Group #5: 1. 10 – Mitch Brown, 14.201; 2. 17 – Jared Horstman, 14.239; 3. 0 – Glenn Styres, 14.254; 4. 27H – Tommy Huppunen, 14.388; 5. 0 – Dane Lorenc, 14.544; 6. 10c – Jeff Cook, 14.620; 7. 42w – Rick Wilson, 14.982; 8. 21J – John Burbridge Jr., 15.345; 9. 94z – Stan Zanchin, 15.366; 10. 10b – Scott Kruetter, 15.370; 11. 70 – Jim Lingar, 16.388;
Qualifying Group #6: 1. 45 – Chuck Hebing, 14.158; 2. 77x – Wayne Johnson, 14.194; 3. 89 – Robbie Stillwaggon, 14.215; 4. 2m – Dustin Daggett, 14.268; 5. 28F – Steve Poirier, 14.314; 6. 19 – Cory Turner*, 14.604; 7. 49D – Shawn Dancer, 14.702; 8. 11 – Jamie Turner, 14.735; 9. 77 – Dain Naida, 14.743; 10. 8b – Alain Bergeron, 14.757; 11. 25G – Tyler Graves, 16.247;
Heat Race #1 (10 Laps): 1. 3G – Shane Stewart, 2. 35 – Jared Zimbardi, 3. 55 – Mark Smith, 4. 67 – Steve Collins, 5. 5d – Dave Dykstra, 6. 17H – Hud Horton, 7. 48J – Darryl Ruggles, 8. 5m – Brad Malloy, 9. 19k – Paul Kinney, 10. 10JR – CJ Jones, 11. 15 – Mike Ferrel, DNS: 21 – Don Adamczyk.(Top three finishers transfers to the A-Main)
Heat Race #2 (10 Laps): 1. 33K – Kyle Patrick, 2. 16 – Ryan Ruhl, 3. 1Z – Jessica Zemken, 4. 79 – Jordan Thomas, 5. 14H – Jim Huppunen, 6. 3R – Shane Ross, 7. 10J – Jeremy Hughes, 8. 5 – Keith Dempster, 9. 51 – Lee Ladoucer, 10. 81 – Derek Jonathan, 11. 27 – Brad Lamberson, 12. 10K – Rob Dietrick.(Top three finishers transfers to the A-Main)
Heat Race #3 (10 Laps): 1. 22H – Randy Hannagan, 2. 51H – Bryan Howland, 3. 19p – Paige Polyak, 4. 6m – Max Stambaugh, 5. 13 – Dylan Swiernik, 6. 87 – Jason Barney, 7. 25P – Michael Parent, 8. 87R – Ryan Linder, 9. 75 – Tommy Wickham, 10. 1 – Kyle Fraser, 11. 49 – Todd Hoddick.(Top three finishers transfers to the A-Main)
Heat Race #4 (10 Laps): 1. 123 – Yan Bilodeau, 2. 45T – Joe Trenca, 3. 2 – Dave Axton, 4. 36 – Mike Stelter, 5. 422 – Etienne Girard, 6. 11R – Chase Ridenour, 7. 5c – Conor Mahoney, 8. 15a – April Wilson, 9. 6 – Curtis Gartly, 10. 43 – Scott Sherk, 11. 22 – Jim Porter.(Top three finishers transfers to the A-Main)
Heat Race #5 (10 Laps): 1. 17 – Jared Horstman, 2. 10 – Mitch Brown, 3. 0 – Glenn Styres, 4. 10c – Jeff Cook, 5. 27H – Tommy Huppunen, 6. 0 – Dane Lorenc, 7. 21J – John Burbridge Jr., 8. 94z – Stan Zanchin, 9. 42w – Rick Wilson, 10. 10b – Scott Kruetter, 11. 70 – Jim Lingar. (Top three finishers transfers to the A-Main)
Heat Race #6 (10 Laps): 1. 2m – Dustin Daggett, 2. 77x – Wayne Johnson, 3. 45 – Chuck Hebing, 4. 89 – Robbie Stillwaggon, 5. 28F – Steve Poirier, 6. 77 – Dain Naida, 7. 8b – Alain Bergeron, 8. 19 – Cory Turner, 9. 49D – Shawn Dancer, 10. 11 – Jamie Turner, 11. 25G – Tyler Graves. (Top three finishers transfers to the A-Main)
B-Main #1 (12 Laps): 1. 67 – Steve Collins, 2. 79 – Jordan Thomas, 3. 14H – Jim Huppunen, 4. 48J – Darryl Ruggles, 5. 17H – Hud Horton, 6. 5d – Dave Dykstra, 7. 3R – Shane Ross, 8. 10J – Jeremy Hughes, 9. 5 – Keith Dempster, 10. 81 – Derek Jonathan, 11. 5m – Brad Malloy, 12. 51 – Lee Ladoucer, 13. 10K – Rob Dietrick, 14. 10JR – CJ Jones, dns . 19k – Paul Kinney. DNS: 15 – Mike Ferrel, 27 – Brad Lamberson, 21 – Don Adamczyk. (Top two finishers transferred to the A-Main)
B-Main #2 (12 Laps): 1. 36 – Mike Stelter, 2. 13 – Dylan Swiernik, 3. 25P – Michael Parent, 4. 87 – Jason Barney, 5. 6m – Max Stambaugh, 6. 87R – Ryan Linder, 7. 422 – Etienne Girard, 8. 5c – Conor Mahoney, 9. 6 – Curtis Gartly, 10. 11R – Chase Ridenour, 11. 1 – Kyle Fraser, 12. 15a – April Wilson, 13. 43 – Scott Sherk, 14. 22 – Jim Porter, 15. 75 – Tommy Wickham. (Top two finishers transferred to the A-Main)
B-Main #3 (12 Laps): 1. 28F – Steve Poirier, 2. 89 – Robbie Stillwaggon, 3. 10c – Jeff Cook, 4. 8b – Alain Bergeron, 5. 19 – Cory Turner, 6. 49D – Shawn Dancer, 7. 77 – Dain Naida, 8. 11 – Jamie Turner, 9. 0 – Dane Lorenc, 10. 94z – Stan Zanchin, 11. 42w – Rick Wilson, 12. 10b – Scott Kruetter, 13. 27H – Tommy Huppunen, 14. 25G – Tyler Graves, 15. 70 – Jim Lingar, 16. 21J – John Burbridge Jr.
Dash (4 Laps): 1. 17 – Jared Horstman, 2. 2m – Dustin Daggett, 3. 33K – Kyle Patrick, 4. 3G – Shane Stewart, 5. 123 – Yan Bilodeau, 6. 22H – Randy Hannagan. (Finish determined the first six starting spots of the A-Main)
Little Feature (15 Laps): 1. 87 – Jason Barney, 2. 10c – Jeff Cook, 3. 17H – Hud Horton, 4. 14H – Jim Huppunen, 5. 77 – Dain Naida, 6. 49D – Shawn Dancer, 7. 6m – Max Stambaugh, 8. 10J – Jeremy Hughes, 9. 3R – Shane Ross, 10. 19 – Cory Turner, 11. 8b – Alain Bergeron, 12. 5d – Dave Dykstra, 13. 25P – Michael Parent, 14. 87R – Ryan Linder, 15. 422 – Etienne Girard. (Top six finishers transferred to the A-Main)
A-Main (35 Laps): 1. 1Z – Jessica Zemken, 2. 77x – Wayne Johnson, 3. 2m – Dustin Daggett, 4. 51H – Bryan Howland, 5. 28F – Steve Poirier, 6. 3G – Shane Stewart, 7. 45 – Chuck Hebing, 8. 45T – Joe Trenca, 9. 19p – Paige Polyak, 10. 35 – Jared Zimbardi, 11. 87 – Jason Barney, 12. 89 – Robbie Stillwaggon, 13. 10 – Mitch Brown, 14. 13 – Dylan Swiernik, 15. 36 – Mike Stelter, 16. 49D – Shawn Dancer, 17. 67 – Steve Collins, 18. 77 – Dain Naida, 19. 0 – Glenn Styres, 20. 14H – Jim Huppunen, 21. 33K – Kyle Patrick, 22. 2 – Dave Axton, 23. 55 – Mark Smith, 24. 10c – Jeff Cook, 25. 79 – Jordan Thomas, 26. 123 – Yan Bilodeau, 27. 17H – Hud Horton, 28. 22H – Randy Hannagan, 29. 17 – Jared Horstman, 30. 16 – Ryan Ruhl.
Lap Leaders: Daggett 1-5, Stewart 6-12, Zemken 13-35