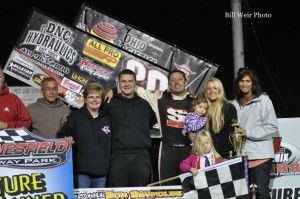 By T.J. Buffenbarger
Waynesfield, OH – (July 3, 2014) — Greg Wilson won the Bob Reynolds Memorial Thursday night in front of a capacity crowd at Waynesfield Raceway Park with the K&L Ready Mix National Racing Alliance and Engine Pro Sprints on Dirt presented by ARP. Wilson was involved in a three car race for the lead with Sheldon Haudenschild and Randy Hannagan before taking over the top spot in lapped traffic and motoring away to the $7,500 payday.
"This is an awesome race track. I want to thank Ron Hammons and Waynesfield Raceway Park for putting this event on. (Haudenschild) got out there and got away and Hannagan was chasing him, and I could kind of pick my line and move around. We thought we would be better at the end of the race, the tires kicked in, and the Hercules Tire, All Star Plumbing, Ohio Logistics, DNC Hydraulics car was awesome at the end of the race."
Haudenschild and Gary Taylor started on the front row for the 40-lap main event. Haudenschild led early while Hannagan motored around Taylor for second when the caution flag flew for Dustin Daggett's coming to a rest on the back stretch after his engine expired. Wilson used the restart to move past Taylor into the third position. As Haudenschild entered lapped traffic it allowed both Hannagan and Wilson to close in. The trio raced three wide through slower traffic. Wilson disposed of Hannagan for second and then took the lead down the backstretch on lap 23. Haudenschild and Hannagan did now allow Wilson to pull away as they kept in close contact for several laps, but eventually Wilson pulled away from the rest of the field.
Behind him Derek Hagar was starting to move up into the top three passing Hanngan for third and then Haudenschild late in the going for second. Towards the end of the race Haudenschild and Hannagan made contact, but both drivers kept going with Haudenschild hanging onto the third spot.
Hagar closed in quickly on Wilson over the last two laps but ran out of time as Wilson hung on for the win over Hagar, Haudenschild, Jamie Veal, and Randy Hannagan.
Christopher Bell, Bryan Sebetto, Dustin Stroup, and Hannagan won heat race events. Haudenschild and Taylor won the dash events while James McFadden and Butch Schroeder won the B-Main events.
Waynesfield Raceway Park
July 3, 2014
3rd Annual Bob Reynolds Memorial
RACE RESULTS
NRA (40 Cars)
[#]-Starting Position
Heat 1 –  (10 Laps – Top 4 finishers transfer to the A-feature)
1. 33B-Christopher Bell[4] 
2. 33H-Sheldon Haudenschild[8] 
3. 24-Brandon Wimmer[10] 
4. 16-Ryan Ruhl[5] 
5. 31-Andy Teunessen[1] 
6. 12H-Tim Hunter[6] 
7. 35-Ron Blair[9] 
8. 22R-Kevin Roberts[7] 
9. 4-Eric Smith[3] 
10. 11R-Chase Ridenhour[2] 
Heat 2 –  (10 Laps – Top 4 finishers transfer to the A-feature)
1. 97-Bryn Sebbetto[1] 
2. 17-Jared Horstman[4] 
3. 9JR-Derek Hager[9] 
4. 1ST-Gary Taylor[6] 
5. 38-Dennis Wagner[5] 
6. 49T-Gregg Dallman[8] 
7. 12-Nick Roberts[3] 
8. 11-Tim Allison[10] 
9. 7K-Kyle Pitts[2] 
10. 9P-Parker Price Miller[7] 
Heat 3 –  (10 Laps – Top 4 finishers transfer to the A-feature)
1. 10X-Dustin Stroup[1] 
2. 35AU-Jamie Veal[4] 
3. 6S-JR Stewart[3] 
4. W20-Greg Willson[9] 
5. 6-Nate Dussel[7] 
6. 28H-Hud Horton[5] 
7. 23M-Jack Miller[6] 
8. 19-Jimmy Snead[10] 
9. 87-Paul Dues[2] 
10. 3G-James McFadden[8] 
Heat 4 –  (10 Laps – Top 4 finishers transfer to the A-feature)
1. 22H-Randy Hannagan[1] 
2. 83-Kyle Sauder[4] 
3. 2M-Dustin Daggett[3] 
4. 6M-Max Stambaugh[2] 
5. B20-Butch Schroeder[9] 
6. 49-Shawn Dancer[7] 
7. 23-Devon Dobie[8] 
8. 8J-Jess Stiger[5] 
9. 27-Brad Lamberson[10] 
10. 11N-Ed Neumeister[6] 
Dash1 – Inside Row –  (6 Laps, finishing order determined first 8 starting positions of A-feature
1. 33H-Sheldon Haudenschild[1] 
2. W20-Greg Willson[2] 
3. 24-Brandon Wimmer[4] 
4. 35AU-Jamie Veal[6] 
5. 6S-JR Stewart[7] 
6. 33B-Christopher Bell[3] 
7. 10X-Dustin Stroup[8] 
8. 16-Ryan Ruhl[5] 
Dash2 – Outside Row –  (6 Laps – Top – finishers transfer to the A-feature)
1. 1ST-Gary Taylor[2] 
2. 22H-Randy Hannagan[1] 
3. 9JR-Derek Hager[6] 
4. 6M-Max Stambaugh[3] 
5. 97-Bryn Sebbetto[4] 
6. 83-Kyle Sauder[5] 
7. 2M-Dustin Daggett[7] 
8. 17-Jared Horstman[8] 
B-Main #1 –  (12 Laps – Top 2 finishers transfer to the A-feature)
1. 3G-James McFadden[12] 
2. 6-Nate Dussel[2] 
3. 28H-Hud Horton[4] 
4. 35-Ron Blair[5] 
5. 12H-Tim Hunter[3] 
6. 22R-Kevin Roberts[7] 
7. 31-Andy Teunessen[1] 
8. 11R-Chase Ridenhour[11] 
9. 19-Jimmy Snead[8] 
10. 23M-Jack Miller[6] 
11. 4-Eric Smith[9] 
12. 87-Paul Dues[10] 
B-Main #2 –  (12 Laps – Top 2 finishers transfer to the A-feature)
1. B20-Butch Schroeder[2] 
2. 23-Devon Dobie[6] 
3. 38-Dennis Wagner[1] 
4. 49T-Gregg Dallman[3] 
5. 11N-Ed Neumeister[12] 
6. 8J-Jess Stiger[8] 
7. 49-Shawn Dancer[4] 
8. 11-Tim Allison[7] 
9. 9P-Parker Price Miller[11] 
10. 12-Nick Roberts[5] 
11. 27-Brad Lamberson[10] 
12. 7K-Kyle Pitts[9] 
A-Main –  (40 Laps)
1. W20-Greg Willson[3]
2. 9JR-Derek Hager[6]
3. 33H-Sheldon Haudenschild[1]
4. 35AU-Jamie Veal[7]
5. 22H-Randy Hannagan[4]
6. 24-Brandon Wimmer[5]
7. 1ST-Gary Taylor[2]
8. 33B-Christopher Bell[11]
9. 3G-James McFadden[17]
10. 6M-Max Stambaugh[8]
11. 97-Bryn Sebbetto[10]
12. 83-Kyle Sauder[12]
13. 6S-JR Stewart[9]
14. 6-Nate Dussel[19]
15. 17-Jared Horstman[16]
16. 23-Devon Dobie[18]
17. 16-Ryan Ruhl[15]
18. 10X-Dustin Stroup[13]
19. 28H-Hud Horton[20]
20. 2M-Dustin Daggett[14]
Hard Charger: 3G-James McFadden[+8]