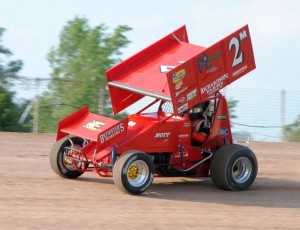 By T.J. Buffenbarger
Auburn, MI – (July 19, 2013) – Dustin Daggett out ran the competition and the weather to win Friday night's Engine Pro Sprints on Dirt presented by ARP feature Friday night at Tri-City Motor Speedway. With lightning flashes all around the 3/8-mile race track Daggett took the lead on lap two and never relinquished it driving the Mott Motorsports owned car.
Teunessen and Mann started on the front row for the 25- Lap feature event. Mann took the lead into turn one while Teunessen, Gavin Hunyady, and Daggett raced three wide for second. Daggett took the second position on lap one and then drove under Mann off of turns three and four to take the lead on lap two. Hunyady challenged Mann for second when slipped up the race track and spun between turns three and four to bring out the caution flag. Hunyady restarted at the back of the field.
During the restart Daggett pulled away with Dalman moving up to second around Mann down the backstretch t after starting in the eighth spot in just three laps. Mann then found himself challenged by Teuenessen and Sprints on Dirt rookie Chris Jones for third. The trio raced two and three wide for a majority of the race.
Up front Dalman started to gain on Daggett as the duo approached slower traffic when Daggett crisscrossed his way through traffic and opened up a full straightaway advantage with 11 laped to go. From that point Daggett cruised to victory over Dalman, Mann, Teunessen, and Jones.
Before the races began Huisken picked up extra money in the qualification challenge at Tri-City by setting the fastest time. Daggett, Teunessen, and Dalman won heat race events. The dash was canceled due to inclement weather that closed in on the track.
Engine Pro Sprints on Dirt Presented by ARP
Tri-City Motor Speedway – Auburn, MI
Friday July 19, 2013
Hoosier Tire Heat Race #1 (8 Laps): 1. Dustin Daggett, 2. Gavin Hunyady, 3. Chris Jones, 4. Robert Huisken, 5. Eric Smith. DNS: Jim lingar
All Star Performance / Comp Cams Heat Race #2 (8 Laps): 1. Andy Teunessen, 2. Brett Mann, 3. Tim Champlin, 4. Joe Geibe, 5. Tank Brakenberry, 6. Andy Chewhowski.
Speed Pro Heat Race #3 (8 Laps): 1. Gregg Dalman, 2. Kirk Cheney, 3. Brett Lane, 4. Ryan Grubaugh, 5. John Gall, 6. Ralph Brakenberry. DNS: Chris Pobanz.
(Top eight drivers in passing points following the heat races drew for the first eight starting positions in the A-Main)
A-Main (25 Laps): 1. Dustin Daggett, 2. Gregg Dalman, 3. Brett Mann, 4. Andy Teunessen, 5. Chris Jones, 6. Brett Lane, 7. Ryan Grubaugh, 8. Kirk Cheney, 9. Tim Cha mplin, 10. Gavin Hunyady, 11. John Gall, 12. Robert Huisken, 13. Joe Geibe, 14. Eric Smith, 15. Tank Brakenberry, 16. Ralph Brakenberry. DNS: Andy Chehowski, Chris Pobanz, Jim Lingar.
Lap Leaders: Mann 1, Daggett 2-25
Engine Pro Lucky Dog: Brett Mann