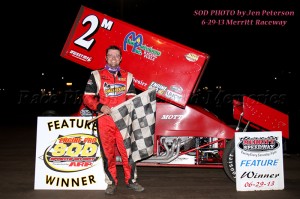 Merritt, MI — (June 29, 2013) —
In front of an enthusiastic Northern Michigan crowd ; the Engine Pro Sprints on Dirt Presented by ARP feature was picked up by Dustin Daggett of Grand Ledge,MI who captured his second feature win of the 2013 season at Merritt Speedway in Lake City,MI.
A field of 23 winged sprint cars signed in at the tricky 3/8 mile oval.  Daggett took the lead from Jared Horstman with four laps to go and held off challenges from Gregg Dalman. After the race was over it was discovered that Horstman had a right rear tire losing pressure affecting his handling that allowed both Daggett and Dalman to pass him with less difficulty before the 25 lap feature was completed. The eventual winner raced the tough track very aggressively and was extremely excited in the Merritt victory lane.
The top five finishers of the evening for the Engine Pro Sprints on Dirt Presented by ARP feature were-Daggett,Dalman, Horstman, Chris Pobanz and Robert Huisken.
Heat race wins were captured by Andy Teunessen, Huisken and Daggett, the B main was scratched and all 21 running cars started the A-main. The Nitro Black Dash went to Mike Astrauskas. Troy Chehowski flipped his car during his heat race and Ryan Grubaugh did the same during the feature, both drivers were checked out and are okay.
Engine Pro Sprints on Dirt Presented by ARP Results-Merritt Speedway
Saturday June 29, 2013
Merritt Speedway—Lake City, MI
Car Count 23
Heat Races (Top 16 in passing points transfer to the "A" Feature)
Hoosier Racing Tire Heat Race #1 (8 laps):1. 31 Andy Teunessen 2. 49t Gregg Dalman, 3. 89 Chris Pobanz, 4. 10s Jay Steinbach, 5. 10j Chris Jones, 6. 36 Nate Bostrom 7. 81 John Gall 8. 23G Joe Giebe
Allstar Performance/Comp Cams Heat Race #2 (8 Laps): 1.46 Robert Huisken 2. 19 Brett Mann, 3. 16 Ryan Ruhl, 4.8 Tim Champlin, 5.70 Jim Lingar, 6. 3W Ryan Grubaugh 7. 4 Eric Smith, 8. 21t Troy Chehowski
Speed Pro Heat Race #3 (8 Laps):  1. 2m Dustin Daggett, 2. 17 Jared Horstman 3. 3A Mike Astrauskas, 4. 21Kirk Cheney, 5.20A Andy Chehowski, 6.187 Gavin Hunyady 7. 2T Ralph Brakenberry
Nitro Black Dash- 1. 3A Mike Astrauskas 2. 89 Chris Pobanz 3. 21 Kirk Cheney 4. 10J Chris Jones
Engine Pro B Main- Cancelled and all 21 running cars started feature
Engine Pro Sprints on Dirt Presented by ARP "A" Feature
"A" Feature (25 Laps):1. 2m Dustin Daggett, 2.49T Gregg Dalman  3.17 Jared Horstman, 4.89 Chris Pobanz 5. 46 Robert Huisken, 6.31 Andy Teunessen, 7. 3A Mike Astrauskas, 8. 36 Nate Bostrom,9. 10j Chris Jones, 10. 21 Kirk Cheney, 11. 20A Andy Chehowski 12. 8 Tim Champlin 13. 187 Gavin Hunyady 14. John Gall, 15.70 Jim Lingar, 16. 23g Joe Geibe, 17.4 Eric Smith, 18. 16 Ryan Ruhl, 19. 3W Ryan Grubaugh, 20. 10s Jay Steinbach, 21. 19 Brett Mann DNS
Engine Pro Lucky Dog-No Winner