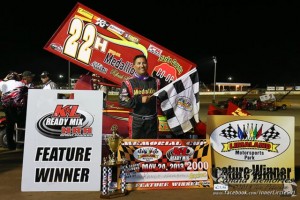 By Bob Buffenbarger
Lima,Oh. 5/24/13-Randy Hannagan capped off a night of hot action on a cool evening at Limaland Motorsports Parks by capturing the 25 lap SOD/NRA feature after making a late race pass of Michigan's Ryan Grubaugh in front of a good crowd. Chasing the duo were Tim Allison, J.R. Stewart and Hud Horton.
A stellar field of 46 sprint cars jammed the pits and provided fans the chance to witness a fast paced, well run program on a very racy surface. Action began with five heat races on the 1/4 mile bullring. J.R. Stewart took the initial heat. Veteran Tim Allison won the 2nd heat race. Heat #3 proved to be the best of the night after Hannagan and Jared Horstman swapped the lead running side by side for several laps with Hannagan coming out on top. Also, Brandon Wimmer made a final turn pass for the transfer spot. The fourth heat saw Ryan Grubaugh shoot to the lead and was not to be denied as he was rocketing around the top of the track for the win. Shawn Dancer took the final heat of the night.
The large field of cars necessitated two 10 lap B mains with Cole Duncan driving the 7k machine winning the first, and Nate Dussel capturing the second B.
The 25 lap main event saw Grubaugh jump out to the lead from the pole and looked like the car to beat as Hannagan, who started next to Grubaugh, fell in line in 2nd. Tim Allison was running a strong 3rd with J.R. Stewart and Hud Horton in tow. A caution for Nate Dussel on the 9th circuit slowed action but it picked back up as the green flew with the same running order.
As the laps wore on, Hannagan was closing on Grubaugh and pulled even at one point with Grubaugh maintaining the lead. Hannagan made an inside pass stick on the 18th lap and that proved to be the winning pass as the 22H went on to take the checkers over Grubaugh, Allison, Stewart and Horton. In victory lane Hannagan stated "Ryan was really fast, but started to spin his tires a bit late in the race, allowing me to make a inside pass." Hannagan also thanked his car owner for a "smooth driving machine."
Tomorrow, Saturday May 25th the SOD/NRA shootout continues at Waynesfield Raceway Park.
Engine Pro Sprints on Dirt presented by ARP
Limaland Motorsports Park-Lima,Oh.
Friday May 24th 2013
K&L Ready Mix Night
Sprints
Hoosier Racing Tire Heat Race #1 – (8 Laps – Top 3 Transfer)
1. 6S-Jr Stewart; 2. 28H-Hud Horton; 3. 35-Ron Blair; 4. 27-Beau Stewart; 5. 16-Ryan Ruhl; 6. 46-Robert Huisken; 7. 4J-Bob Gehr; 8. 20A-Andy Chehowski; 9. 70-James Lingar; 10. 22OZ-Aaron Shaffer
All Star Performance / Comp Cams Heat Race #2 – (8 Laps – Top 3 Transfer)
1. 11-Tim Allison; 2. 2S-Kyle Sauder; 3. 22R-Kevin Roberts; 4. 31-Andy Teunessen; 5. 23M-Jack Miller; 6. 50B-Mike Burns; 7. 23G-Joe Geibe; 8. 83-Phil Gressman; 9. 18-Todd Heuerman
Speed Pro Heat Race #3- (8 Laps – Top 3 Transfer)
1. 22H-Randy Hannagan; 2. 17-Jared Horstman; 3. 9W-Brandon Wimmer; 4. 23-Devon Dobie; 5. 12-Don Ryder; 6. 69-Scott Curren; 7. 34-Jimmy Snead; 8. 10JX-Chris Jones; 9. 4-Eric Smith
ARP Fastners Heat Race #4- (8 Laps – Top 3 Transfer)
1. OO-Ryan Grubaugh; 2. 99-Brady Bacon; 3. 49T-Gregg Dalman; 4. 6-Nate Dussel; 5. 7C-Max Stambaugh; 6. 57-Mike Dunlap; 7. 22D-Dennis Yoakam; 8. 16C-Greg Wheeler; 9. 2-Brent Gehr
ARP Fastners Heat Race #5- (8 Laps – Top 3 Transfer)
1. 49-Shawn Dancer; 2. 7-Darren Long; 3. 10X-Dustin Stroup; 4. 7K-Cole Duncan; 5. B20-Butch Schroeder; 6. 2M-Dustin Daggett; 7. 10J-Jarrod Delong; 8. 12R-Nick Roberts; 9. 2W-Chad Mcinturff
B-Main #1 – (10 Laps – Top 3 Transfer)
1. 7K-Cole Duncan; 2. 27-Beau Stewart; 3. 7C-Max Stambaugh; 4. 2M-Dustin Daggett; 5. 23-Devon Dobie; 6. 22D-Dennis Yoakam; 7. 18-Todd Heuerman; 8. 20A-Andy Chehowski; 9. 46-Robert Huisken; 10. 69-Scott Curren; 11. 10JX-Chris Jones; 12. 23M-Jack Miller; 13. 2-Brent Gehr; 14. 12R-Nick Roberts; 15. 23G-Joe Geibe; 16. 22OZ-Aaron Shaffer
B-Main #2 – (10 Laps – Top 3 Transfer)
1. 6-Nate Dussel; 2. B20-Butch Schroeder; 3. 57-Mike Dunlap; 4. 31-Andy Teunessen; 5. 83-Phil Gressman; 6. 16-Ryan Ruhl; 7. 12-Don Ryder; 8. 10J-Jarrod Delong; 9. 16C-Greg Wheeler; 10. 50B-Mike Burns; 11. 4J-Bob Gehr; 12. 34-Jimmy Snead; 13. 70-James Lingar
A-Main – (25 Laps) [#]-Starting Position
1. 22H-Randy Hannagan[2]; 2. OO-Ryan Grubaugh[1]; 3. 11-Tim Allison[3]; 4. 6S-Jr Stewart[4]; 5. 28H-Hud Horton[6]; 6. 99-Brady Bacon[9]; 7. 7-Darren Long[10]; 8. 2S-Kyle Sauder[7]; 9. 9W-Brandon Wimmer[13]; 10. 10X-Dustin Stroup[15]; 11. 7K-Cole Duncan[16]; 12. 49-Shawn Dancer[5]; 13. 49T-Gregg Dalman[14]; 14. 17-Jared Horstman[8]; 15. 27-Beau Stewart[18]; 16. 35-Ron Blair[11]; 17. B20-Butch Schroeder[19]; 18. 6-Nate Dussel[17]; 19. 7C-Max Stambaugh[20]; 20. 22R-Kevin Roberts[12]; 21. 57-Mike Dunlap[21]
©2010 – Results Provided by: Computer Man Inc. Fremont, OH