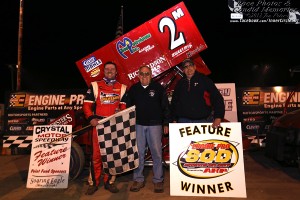 By T.J. Buffenbarger
Crystal, MI – (April 28, 2013) – Dustin Daggett overcame a flat tire on the opening lap and restarting at the tail of the field to win the opening event of the 2013 season for the Engine Pro Sprints on Dirt presented by ARP. Daggett was involved in an opening lap skirmish and cut a right rear tire down. Daggett rejoined the field at the tail, raced his way through the field, and swapped the lead back and forth with Ryan Ruhl through heavy lapped traffic before clearing the slower cars and motoring to victory.
"I think everyone got stacked up on the opening lap and I got hit in the right rear," said Daggett after the feature. "Luckily we were able to get off the track and get the tire changed. The traffic was running two abreast and they wouldn't separate and we were blocked behind them. (Ruhl) kind of caught a break and got back ahead of me. It was one heck of a race"
After the opening lap skirmish Greg Wheeler to the lead while Ruhl raced with Tim Champlin for second. Ruhl disposed of Champlin and set out after Wheeler for the lead. Meanwhile Daggett along with Ryan Grubaugh and defending SOD champions Gregg Dalman were rocketing through the field. Daggett was up into the top five quickly and set out after the leaders.
After a caution for a spin by Joe Geibe, Ruhl was slowing reeling in the Wheeler and slid by in turn one to take the lead on lap nine. Wheeler then had to deal with Daggett and Dalman on his back bumper, shuffling Wheeler back to fourth. Ruhl was under heavy pressure from Daggett for the lead. As the duo approached lapped traffic Daggett took the lead motoring around the outside of Ruhl on lap 13. Ruhl refused to give up the top spot willingly and hung to Daggett's back bumper racing around several slower cars running side by side for position. Daggett and Ruhl then went on to race three abreast through slower cars with Ruhl regaining the top spot on lap 17, but then Ruhl got boxed in as Daggett motored around the top of the track three wide off of turn four around slower cars and opened up some distance. That was all Daggett needed to score the 21st feature victory of his career in SOD competition at Crystal . Ruhl, Dalman, Grubaugh, and Wheeler rounded out the top five.
Ruhl, Jared Horstman, John Gall, and Jay Steinbach won heat race events. Dalman won the B-Main after being involved in a heat race incident while Keith Love won the Dash. During the B-Main Eric Smith flipped and Jim Lingar was collected in the accident. Both drivers exited the cars under their own power.
The Engine Pro Sprints on Dirt presented by ARP series continues next Saturday night at I-96 Speedway in Lake Odessa, Michigan for the first co-sanctioned event of the 2013 season with the Engine Pro National Racing Alliance.
Engine Pro Sprints on Dirt presented by ARP
Saturday April 28, 2013
Crystal Motor Speedway – Crystal MI
Heat Races (Top 16 in passing points transferred to the "A" Feature)
Hoosier Racing Tire Heat Race #1 (8 Laps): 1. 16 – Ryan Ruhl, 2. 8 – Tim Champlin, 3. 77 – Keith Love, 4. 22t – Tank Brakenberry, 5. 187 – Gavin Hunyady, 6. 70 – Jim Lingar, 7. 36 – Nate Bostrum.
All Star Performance / Comp Cams Heat Race #2 (8 Laps): 1. 17 – Jared Horstman, 2. 2m – Dustin Daggett, 3. 46 – Robert Huisken, 4. 23 – Joe Geibe, 5. 31 – Andy Teunessen, 6. 20A – Andy Chehowski. DNS: 2t – Ralph Brakenberry, 19 – Brett Mann
Speed Pro Heat Race #3 (8 Laps): 1. 81 – John Gall, 2. 3R – Shane Ross, 3. 89 – Chris Pobanz, 4. 10J – Chris Jones, 5. 49t – Gregg Dalman, 6. 49 – Shawn Dancer. DNS: 00 – Joe Irwin
ARP Fastners Heat Race #4 (8 Laps): 1. 10s – Jay Steinbach, 2. 27k – Ryan Kirkendall, 3. 16c – Greg Wheeler, 4. 21 – Kirk Cheney, 5. 4 – Eric Smith, 6. 88 – Mike Daggett. DNS: 29s – Max Stambaugh.
B-Main (8 Laps): 1. 49t – Gregg Dalman, 2. Andy Teunessen, 3. Mike Daggett, 4. 3w – Ryan Grubaugh, 5. Nate Bostrum, 6. 20A – Andy Chehowski, 7. 4 – Eric Smith, 8. 70 – Jim Lingar.
Nitro Black Dash (4 Laps): 1. 77 – Keith Love, 2. 46 – Robert Huisken, 3. 22t – Tank Brakenberry, 4. 10J – Chris Jones. (Determined starting positions 9-12 in the "A" Feature)
Engine Pro B-Main (8 Laps): 1. 49t – Gregg Dalman, 2. 31 – Andy Teunessen, 3. 88 – Mike Daggett, 4. 3w – Ryan Grubaugh, 4. 36 – Nate Bostrum, 5. 20A – Andy Chehowski, 6. 4 – Eric Smith, 7. 70 – Jim Lingar, 8. 00 – Joe Irwin. DNS: 19 – Brett Mann, 29s – Max Stambaugh, 2t – Ralph Brakenberry. (First four finishers transferred to the "A" Feature)
Engine Pro / ARP A-Main (25 Laps): 1. 2m – Dustin Daggett, 2. 16 – Ryan Ruhl, 3. 49t – Gregg Dalman, 4. 3w – Ryan Grubaugh, 5. 16c – Greg Wheeler, 6. 88 – Mike Daggett, 7. 8 – Tim Champlin, 8. 3 – Shane Ross, 9. 81 – John Gall, 10. 77 – Keith Love, 11. 10s – Jay Steinbach, 12. 10J – Chris Jones, 13. 23 – Joe Geibe, 14. 21 – Kirk Cheney, 15. 22t – Tank Brakenberry, 16. 27K – Ryan Kirkendall, 17. 187 – Gavin Hunyady, 18. 89 – Chris Pobanz, 19. 31 – Andy Tuenesaen, 20. 46 – Robert Huisken. (Jared Horstman scratched from the "A" Feature)
Lap leaders: Wheeler 1-8, Ruhl 9-12, Daggett 13-16, Ruhl 17, Daggett 18-25
Engine Pro Hard Luck Award: Greg Wheeler