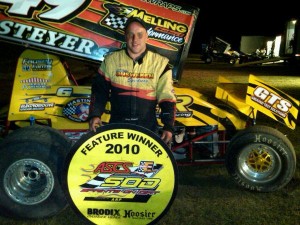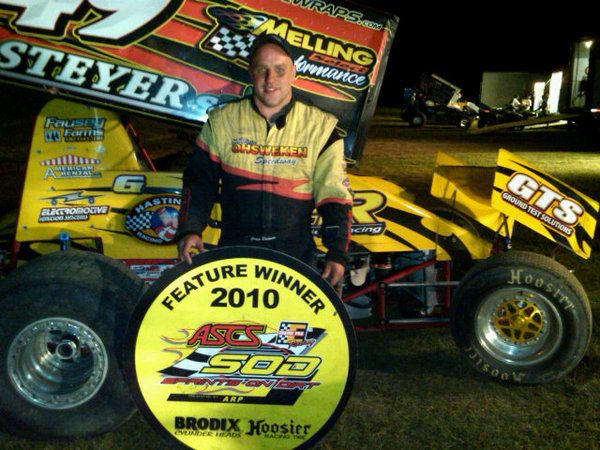 Engine Pro ASCS Sprints
By T.J. Buffenbarger
OWENDALE, Mich. (August 28, 2010) – Gregg Dalman kept his championship hopes alive by winning Saturday night's Engine Pro ASCS Sprints on Dirt presented by ARP feature at Owendale Speedway. Dalman conserved his tires and made a daring outside pass of Davey Brown and pulled away during a late race restart to take the win.
"We knew the track would be hard on tires, so I just tried to sit back and conserve a bit in the beginning," said Dalman in victory lane. "I could see Davey (Brown) smoking his tire off the corner. I have to give him a ton of credit, he raced us really clean."
Brown and rookie of the year point leader Gavin Hunyady started on the front row for the 25-lap feature event. Brown took the lead with Dalman moving past Hunyady for second. The top three cars opened up some space until both Ryan Grubaugh and Ben Rutan moved Hunyady back to fifth.
Brown's tactics passing slower cars enabled him to gain some breathing distance, but Dalman, Grubaugh, and Rutan were able to keep pace. On lap 17 things started to heat up as Brown's car was visibly not coming off the corners as well and everyone behind him decided to pounce. Dalman tried to set Brown up entering the corner high and diving low coming off, but could not make the pass. Grubaugh and Rutan battled for third back and forth with Grubaugh maintaining the position.
Then with six laps to go Dalman drove to the middle of the track in turns one and two and motored down the backstretch into the laad. Even with a late race caution Dalman pulled away after the restart to victory. Brown held on for second with Grubaugh, Rutan, and Dain Naida coming from fifteenth to fifth rounding out the top five.
Brown, Grubaugh, and Dalman won heat race events while Tim Champlin won the fast car dash.
on Dirt presented by ARP Results
Saturday August 28th, 2010
Owendale Speedway – Owendale, MI
Engler Machine and Tool Heat Race #1 (8 Laps): 1. 10x – Davey Brown, 2. 187 – Gavin Hunyady, 3. 8 – Tim Champlin, 4. 12 – Brett Lane, 5. 22t – Tank Brakenberry, 6. 6n – Dain Naida.
Lane Automotive/Comp Cams Heat Race #2 (8 Laps): 1. 3w – Ryan Grubaugh, 2. 46 – Robert Huisken, 3. 22 – Aaron Shaffer, 4. 70 – Jim Lingar, 5. 2t – Ralph Brakenberry. DNS: Louie Carufel.
Butlerbuilt Heat Race #3 (8 Laps): 1. 49t – Gregg Dalman, 2. 23 – Ben Rutan, 3. 41 – Jim Goetgeluck, 4. 41M – Keith McCreedie, 5. 10 – Tracy Rice, 6. 89 – Chris Pobanz
Total Seal Fast Car Dash presented by Gaerte Engines (4 Laps): 1. 8 – Tim Champlin, 2. 49t – Gregg Dalman, 3. 3w – Ryan Grubaugh, 4. 10x – Davey Brown
Engine Pro ASCS Sprints on Dirt presented by ARP "A" Main Event
"A" Feature (25 Laps): 1. 49t – Gregg Dalman, 2. 10x – Davey Brown, 3. 3w – Ryan Grubaugh, 4. 23 – Ben Rutan, 5. 6n – Dain Naida, 6. 8 – Tim Champlin, 7. 47x – Louie Carufel, 8. 187 – Gavin Hunyady, 9. 22 – Aaron Shaffer, 10. 46 – Robert Huisken, 11. 89 – Chris Pobanz, 12. 70 – Jim LIngar, 13. 22t – Tank Brakenberry, 14. 12 – Brett Lane, 15. 41m – Keith McCreedie. DNS: 2t – Ralph Brakenberry