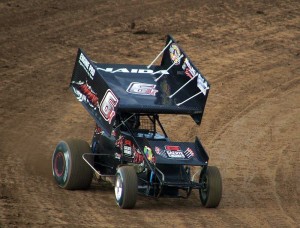 T.J. Buffenbarger, ROTHBURY, Mich. (July 16, 2010) – People in motor sports often say if you can't win, be spectacular. Dain Naida managed to do both on the way to his second Engine Pro ASCS Sprints on Dirt feature win in as many weeks Friday at the Winston Speedway.
Naida took the lead with a last lap pass of 2008 ASCS SOD champion Brett Mann and then slammed into a loose wheel off another competitors car with his top wing while crossing the finish line.
"I didn't even see the wheel," said Naida after the feature in the pit area. "I got out of the car in victory lane and wondered what the heck happened to my wing."
Mann and Naida started on the front row for the 25-lap feature. Mann too the lead at the start with Naida pulling up to challenge going down the backstretch when Ben Rutan and Dustin Daggett made contact in turn two. Daggett spun and Rutan made contact after suffering front end damage. While under caution one of Daggett's crewmembers came onto the racing surface, disqualifying him from the remainder of the feature event. Rutan's crew was unable to make repairs.
The second restart attempt saw Mann take the lead with Naida and Grubaugh in tow when the red flag appeared on lap three for a two car flip involving Ryan Davis and Joe Bares in turn four. Both drivers emerged from their cars uninjured.
Mann pull away again after the restart, but Naida closed the gap as the race went on. Just as the lead duo was approached slower traffic Louie Carufel spun in turn two and in the ensuing craziness Trey Smith took a wild tumble off the track in turn one to bring out another red flag. Smith was uninjured in the incident. Carufel was able to restart.
After the restart Mann opened up his largest lead of the feature, but Naida kept hanging as close to the infield marker tires as possible and began to makeup ground. Coming to the white flag Mann left just enough room on the bottom for Naida to slide under. Mann and Naida made contact coming off turn two, with Naida going into the lead.
Just as it appeared Naida would have smooth sailing to the checkered flag Aaron Smith encountered problems right in front of Naida and lost the left front wheel off his car. Naida slammed into the wheel with his top wing while crossing the finish line to take the checkered flag ahead of Mann, Grubaugh, Gregg Dalman, and Davey Brown.
Mann and Naida started on the front row for the 25-lap feature event.
Rutan, Dalman, and Gary Fast won heat race events, Daggett while won the fast car dash.
Engine Pro ASCS Sprints on Dirt presented by ARP Results
Friday July 16th, 2010
Winston Speedway – Rothbury, MI
Heat Races (Top 16 in passing points transfer to the "A" Feature)
Engler Machine and Tool Heat Race #1 (8 Laps): 1. 23 – Ben Rutan, 2. 10x – Davey Brown, 3. 22s – Aaron Shaffer, 4. 187 – Gavin Hunyady, 5. 55 – Kirk Cheney, 6. 61x – Don Smith, 7. 29s – Marques Huffer
Lane Automotive/Comp Cams Heat Race #2 (8 Laps): 1. 49t – Gregg Dalman, 2. 00 – Ryan Grubaugh, 3. 6n – Dain Naida, 4. 19 – Brett Mann, 5. 91 – Joe Bares, 6. 70 – Jim Lingar, 7. 46 – Robert Huisken
Butlerbuilt Heat Race #3 (8 Laps): 1. 26 – Gary Fast, 2. 47x – Louie Carufel, 3. 2m – Dustin Daggett, 4. 11 – Trey Smith, 5. 14 – Ryan Davis, 6. 06 – Don Bostrum
Total Seal Fast Car Dash presented by Gaerte Engines (4 Laps): 1. 2m – Dustin Daggett, .23 – Ben Rutan, 3. 49t – Gregg Dalman, 4. 10x – Davey Brown.
Engine Pro ASCS Sprints on Dirt presented by Victor Reinz "A" Main Event
"A" Feature (25 Laps): 1. 6n – Dain Naida, 2. 19 – Brett Mann, 3. 00 – Ryan Grubaugh, 4. 49t – Gregg Dalman, 5. 10x – Davey Brown, 6. 26 – Gary Fast, 7. 55 – Kirk Cheney, 8. 47x – Louie Carufel, 9. 46 – Robert Huisken, 10. 187 – Gavin Hunyady, 11. 22 – Aaron Shaffer, 12. 70 – Jim Lingar, 13. 61x – Don Smith, 14. 29s – Marques Huffer, 15. 11 – Trey Smith, 16. 14 – Ryan Davis, 17. 91 – Joe Bares, 18. 23 – Ben Rutan, 19. 06 – Don Bostrum, 20. 2m – Dustin Daggett
Lap Leaders: Mann 1- 24, Naida 25